We use cookies on this site to enhance your user experience. Find out more in our Privacy Policy. By clicking any link on this page you are giving your consent for us to set cookies.
Terms and Conditions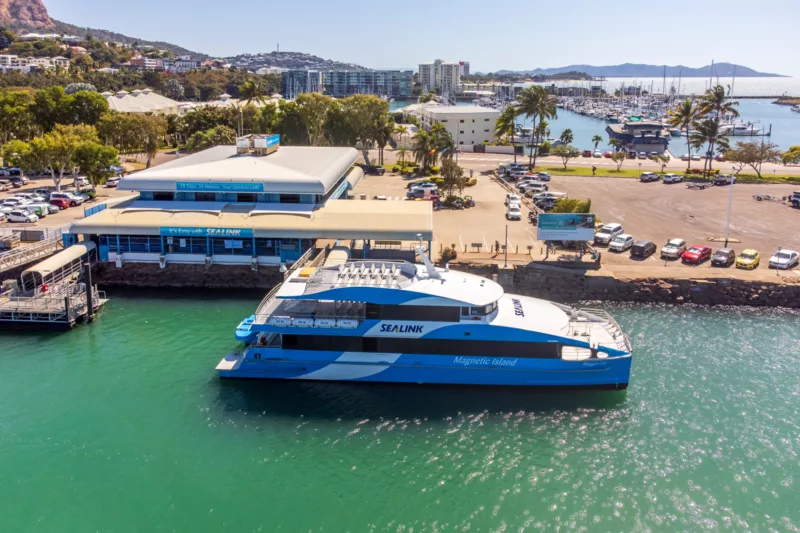 Booking & Cancellation Policy
SeaLink is not a common carrier and reserves the rights to refuse to carry any passenger, baggage or goods at its discretion.


Please note the scattering of ashes is not permitted from SeaLink vessels and during SeaLink operated tours due to public health and safety concerns.

As a passenger, you agree that you will accept the delivery of services from SeaLink North Queensland at your own risk. SeaLink will not be liable for any loss or damage, howsoever or whatsoever caused, as a consequence or arising, indirectly or directly, out of the provisions of services to a passenger, including, loss and/or damage occasioned by SeaLink and/or its agents and/or its employees negligence.

SeaLink North Queensland ferry tickets are non-refundable and non-replaceable and SeaLink staff reserve the right to refuse travel to any passenger with an invalid or illegible ticket.

a) be present at the terminal a minimum of fifteen (15) minutes prior to the service's scheduled departure time (Please refer to your travel itinerary for SeaLink North Queensland tour check-in times)
b) once boarded keep your ferry ticket with you until your travel is complete.
c) respect our employees, including our vessel crew and promptly obey any instructions given to you, including a direction to provide your ferry ticket.
d) listen carefully to the safety briefing, identify your nearest exits, and familiarise yourself with the location and operation of safety equipment.
e) behave in a way which does not disturb or cause offence to your fellow passengers;
f) produce a valid Australian concession card, student identification card or proof of identification at the request of SeaLink staff. (International concession and student cards do not apply) click here for a list of approved cards
g) be wearing a shirt to be permitted to sit inside ferry cabins
h) drink in moderation and only consume alcohol which we supply to you on the vessel – not alcohol that you bring on board with you.

All children under the age of 12 years must be accompanied by a parent or guardian when travelling outside official school days and services - 7:00am, 7:45am, 3:50pm and 4:30pm (unless travelling home after school related activities i.e. sport, school production etc.).

a) Children who are 9 years and younger MUST be accompanied by a parent/guardian or an immediate family member who is over the age of 15 years
b) Children aged 10 years to 11 years can travel unaccompanied provided an "Unaccompanied Minor Waiver" form, which can be collected from the Terminal, is completed and handed to the skipper of the vessel by a SeaLink staff member. Children this age are only allowed to travel between the hours of 8am and 5pm.

a) Smoke, (including e-cigarettes);


b) behave in a manner which would be considered by a reasonable person to be offensive, or in a manner which might cause discomfort, distress, offence or injury to another person;
c) board, or alight from, or attempt to board or alight from the vessel whilst it is in motion, or without permission from the crew.
d) disobey the directions of the staff or vessel crew;
e) be under the influence of or use illicit drugs on board our vessel, or use prescription drugs which you are not medically required to take;
f) do anything which may endanger the safety of the vessel on which you are travelling, or the safety of our vessel crew or your fellow passengers; and
g) tamper, interfere with or damage any part of the vessel or the equipment carried on board.
h) undertake activities such as cycling, roller-skating, skateboarding or any other such potentially hazardous behaviour.
i) perform upon any musical instrument, distribute any advertising materials or offer any product for sale within the terminals or onboard the ferry, unless prior permission from SeaLink is approved.
j) obstruct passageways, if required please seek assistance from crew with regards to where to place luggage, pram or wheelchair during the voyage.

We reserve the right to take all steps which are reasonably necessary to ensure the safety of our employees and guests on board the vessel. If in the opinion of our crew you have not complied with your obligations as stated in these Conditions of travel we may take steps which include any one or more of the following:

a) move you to another seat, or another part of the vessel;
b) remove you from the vessel;
c) report you to the relevant authorities;
d) refuse you from travelling on SeaLink services, for any duration of time we believe is appropriate.

a) If you are in breach of these Conditions, objectionable to other passengers or our employees, or are for any reason, disturbing, causing discomfort to or threatening the safety or security of other passengers or our employees or any of our property; or
b) If it appears to us that you are under the influence of alcohol or drugs or are not physically or mentally fit to travel; or
c) You have failed to comply with our reasonable directions (including the directions of our staff and vessel crew); or
d) You have not paid the Fare or any applicable taxes or charges, your Ticket has been reported lost or stolen (if applicable), has been dealt with by you in a way which contravenes these Conditions or has otherwise been acquired unlawfully; or
e) You are, or are suspected to be, unlawfully in possession of drugs, or in possession of illicit drugs; or
f) You have tampered in any way with the vessel or its equipment, made a threat, or in any way put the safety of the vessel in danger; or
g) If we reasonably believe that you may pose a threat to the safety or security of the vessel, other passengers or our employees.

All passengers must comply with SeaLink QLD policies when travelling with luggage or pets, which are summarised here. Details of the full policies are available from terminals.

a) Travelling with Animals

Dogs must be muzzled while in and around the terminal, in passenger waiting areas, during boarding and while on board our vessels. They are to be seated on the outside areas of the vessels.
Other animals must be restrained in a suitable box, basket or container at all times.
Animals are not allowed on seats and must not obstruct passageways.
Assistance and service animals are exempt from muzzling, containment and seating restrictions.

The full animal policy can be found here.

b) Luggage

Due to Work Health & Safety Regulations, SeaLink crew cannot assist with luggage items that exceed 20kg or one cubic meter in size.
All luggage is to be stowed in accordance with crew's directions and must not restrict access to safety equipment, aisles or emergency exits.
Where a luggage trolley has been booked, any passenger loading luggage items must adhere to the load limit level within the trolley for heavy items.
Fishing equipment: all lures and hooks are to be removed from fishing rods; and spear guns are to be handed to vessel crew during boarding for safe stowage.

The full luggage policy can be found here.

TRAVEL SAFE UPDATE REGARDING E-SCOOTERS AND LUGGAGE

Valid from 13th September 2022

For the safety of all passengers and crew, riding in/on wheeled items during boarding, disembarkation or voyage is not permitted (eg: bikes, scooters, trolleys, skateboards etc) - prams and mobility aids excepted.
Charging of e-bikes and e-scooters is not permitted on board SeaLink vessels or in SeaLink terminals.

Beach Trolleys:

4 wheeled trolley carts create congestion, obstruct aisleways & pathways including emergency exits, and are not always appropriately restrained (eg: no brakes). Commencing from Mon 19th September, the following must be considered by passengers who choose to bring 4 wheeled trolley carts:
Foldable beach trolleys are able to be taken to Magnetic Island, however they need to be folded and stowed for the ferry voyage.
Folded beach trolleys and any additional items are to be placed in the designated area on board as directed by the crew.

Upright Trolleys:


Upright trolleys with small base dimensions are permitted to travel on board our ferries (eg: hand trolleys, stock trolleys, market trolleys).
Upright trolleys, including their contents, must meet the Size & Weight Guide in our Luggage Policy.

c) Dangerous goods

Dangerous goods are not permitted to be carried on-board SeaLink vessels. Where a passenger is unsure, they are required to declare the item/s with the Vessel Master:

The following MUST NOT be carried

▪ Corrosive substances (e.g: acid, industrial cleaners, pool chlorine, wet cell batteries, engine oil)
▪ Toxic substances (e.g: oil based paint, used paint tins)
▪ Flammable/explosive substances or items containing these (e.g: compressed gasses, fuel, combustion engines). Medical oxygen is permitted.
▪ Radioactive materials
▪ Bulky/Awkward items (e.g: Sharp objects, glass panels, household furniture/equipment)
▪ Cement and plaster bags, fertiliser, dirty car parts.
▪ Machinery/Equipment (unless brand new – as long as oil/liquid has not yet been placed in it; and if Master deems ok) Eg: hot water cylinders, tyres, generators, BBQ.

The full dangerous goods policy can be found here.

SeaLink staff shall strictly enforce all applicable liquor licensing legislation, including, but not limited to the Palm Island Alcohol Management Plan for services between Palm Island and Townsville.

Although we will try to accommodate your choice of travel time, we do not guarantee seat availability. Passengers are boarded on a first come first served basis. Under maritime law should the vessel on service reach its maximum passenger carrying capacity it cannot not board further passengers. Some passengers may have to wait for the next available ferry.

We will use our reasonable endeavours to operate in accordance with our published timetable. However, we do not guarantee the ferry times and they do not form part of your contract of carriage with us.

Storing of Items at Terminals: SeaLink North Queensland has a 'No Hold' policy at the Breakwater and Nelly Bay Terminals. Under no circumstance will SeaLink North Queensland staff hold items, such as keys, envelopes or larger items, on behalf of passengers. This policy is based on safety and privacy; therefore all holding enquiries will be refused. A freight service is available to transport items to and from Magnetic Island for a small fee and secure storage lockers are available for hire in the Breakwater and Nelly Bay Terminals. Please ask our travel consultants for more information about these services.
All costs, itinerary details, ferry schedules and accommodation information are correct at the time of publishing; however, these can be subject to alteration, sometimes without notice. All services and reservations provided are subject to the conditions of the principal providers and no responsibility is accepted by SeaLink North Queensland for misrepresentation, unforeseen omissions or additional costs incurred, including those arising from adverse weather conditions. No credit or refunds are available for unused services. Travel insurance is highly recommended.

All fares and prices are in Australian Dollars and are valid from 1 April to 31 March inclusive. All fares and prices are subject to availability, surcharges, blackout periods, minimum night stays and seasonal variations. Always check your travel documentation for final prices. Some accommodation operators over peak periods have blackout dates or minimum night stay requirements. At the time of booking you will be advised if these dates affect your booking. High Season rates may apply to all bookings and all rates quoted are 'from' rates.

Tickets are non-transferrable and non-refundable. ID must be presented to SeaLink North Queensland staff to be eligible to receive Australian concession or Australian student rates, otherwise a full fare applies. Lost tickets will not be reissued, including ferry and parking tickets. Damaged or faded multiple trip tickets can only be reissued if the original is surrendered and the expiration date and number of trips remaining are still legible. Multiple trip tickets will not be extended if circumstances are beyond SeaLink North Queensland control, including but not limited to weather conditions, result in scheduled services being reduced or cancelled. See below for a full list of Terms and Conditions of Travel.

A 1% fee for VISA, MasterCard & American Express of total booking cost will be charged when paying for travel, service, package or product via these methods.

Bookings can only be secured with 100% payment.

Ferry, tour and accommodation package bookings and cancellation policy

Applicable to SeaLink North Queensland ferry, tours, accommodation and packages. Cancellation of a booking of part thereof will incur the following fees:

More than 30 days before departure – 10% of total cost
Between 7 and 30 days before departure - 50% of total cost
Less than 7 days before departure - 80% of total cost
Within 24 hours of departure - 100% of total cost

If a scheduled ferry service in cancelled by SeaLink North Queensland due to inclement weather or unforeseen circumstances a transfer to another service or full refund will be offered. A 'no show' will incur 100% penalty. No refunds are given on unused ferry tickets.

No refunds will be made for services not availed once travel has commenced. All refund claims must be made in writing. Please note operators (other than SeaLink North Queensland) reserve the right to charge cancellation fees in addition to the above.


SeaLink North Queensland Adventure Tours bookings & cancellation policy

Applicable to Great Barrier Reef Snorkelling Day Tour, Whale Watching Tour, Orpheus Island Day Tour.


1. Cancellation by the Traveller

If you cancel your booking the following fees apply:

Between 14 days and 48 hours before departure: 20% of total cost
Between 24 hours and 48 hours before departure: 50% of total cost
Within 24 hours of departure: 100% of total cost

A 'no show' will incur 100% penalty. No refunds are given on unused tickets.

2. Cancellation by SeaLink North Queensland

All tours cancelled by SeaLink North Queensland due to inclement weather or unforeseen circumstances are eligible for:

Full refund
Transfer or reschedule to another SeaLink North Queensland Tour
100% Credit to use for a future SeaLink North Queensland Tour


3. Booking changes

We understand that plans can change at any time, therefore if you wish to reschedule or change your booking to another SeaLink North Queensland Tour (subject to availability) within 48 hours from departure, a $20 per person administration fee will incur . Any difference in price is payable by the passenger.

4. Change of Itinerary

Tours and itinerary are subject to prevailing weather and sea conditions including tides, wind, swell and rain. The vessel master will determine the most appropriate course on the day of travel.

5. Travel Insurance

Holiday plans can be disrupted and cancellation fees can be costly. We highly recommend that you have your own travel insurance. Please note that Travel Insurance may not cover disruptions caused by mechanical breakdowns or adverse weather conditions.

SeaLink must comply with any Queensland Government Public Health orders and directives. Please visit www.covid19.qld.gov.au/

Holiday plans can be disrupted and cancellation fees can be costly. Travel insurance is inexpensive and highly recommended. Please note that Travel Insurance may not cover disruptions caused by mechanical breakdowns or adverse weather conditions.

Child prices generally apply to children aged 5 to 14 years, inclusive. In some cases this may vary – please enquire at the time of booking. Accommodation for children under 5 is generally free of charge but some accommodation may impose a small charge and/or a fee for providing a cot. Children under 5 years of age travel free of charge on SeaLink North Queensland ferry services.

Twin share prices are based on a 'double' – two people sharing a double bed (queen or king beds at some properties) or 'twin', consisting of two single beds. Please request either a 'double' or 'twin' at the time of reservation. 'Extra Adult' prices are based on sharing with two other adults in the same room. Should the extra adult wish to have their own room they will be charged at 'single' rates. 'Single' prices are based on a person having their own room. 'Extra Child' prices are based on sharing the same room with two or more adults. Triple share prices are based on three people sharing one room with existing bedding (e.g. double/queen or king bed and a single bed).

Please note that the hire of vehicles and/or other means of transport (i.e. scooters) are subject to certain rules and regulations. Specific licenses and a credit card may be required. You may be required to wear appropriate protective clothing (i.e. closed in shoes when hiring scooters / trail bikes). Please check with the travel consultant for further information on any restrictions. All hire cars quoted in packages are located on Magnetic Island only.

Please note that there may be specific times for set tours, checking-in and out of accommodation, and for the hire of transportation. These are specific to the operator and SeaLink North Queensland will not be responsible for any charges that may occur or for bookings that are cancelled as a result of the client not adhering to these set times. Please ask the travel consultant for further information.

Gift vouchers purchased from SeaLink North Queensland have an expiry of three (3) years from date of issue. Please present this gift voucher to our sales team at time of travel to exchange for your boarding pass and/or travel vouchers. Please note, we do not take bookings for our ferry departure times, arriving early to the terminal is recommended to board your desired service. Bookings are essential for all products other than ferry travel and must be done prior to the expiry. At time of booking, please quote the reference number found on this gift voucher. The gift voucher must be surrendered at time of ticket collection. Gift vouchers will not be extended in validity. The value of the gift voucher is in Australian Dollars ($AUD). Redemption of gift vouchers is subject to SeaLink North Queensland's standard Terms and Conditions and is valid for use towards any SeaLink North Queensland product including ferry fares, accommodation, travel packages, tours and more. Gift vouchers cannot be used to pay for travel retrospectively and cannot be exchanged or redeemed for cash. Any costs in addition to the value of this gift voucher are payable by the customer at time of booking.


SeaLink Travel Group values your privacy. For full details please read our privacy statement available here.