Australia is home to some of the world's most beautiful beaches. With over 60,000 kilometers of coastline and over 12,000 beaches, Australians are spoilt for choice. So, if you're planning your summer island getaway, make sure to add these bucket-list-worthy and picturesque beaches to your itinerary.
Whether you're heading to the pristine Kangaroo Island or have your sight set on the beautiful Whitsundays, you are never too far away from one of these incredible beaches.
Discover Australia's best beaches to visit in 2023
1. Emu Bay, Kangaroo Island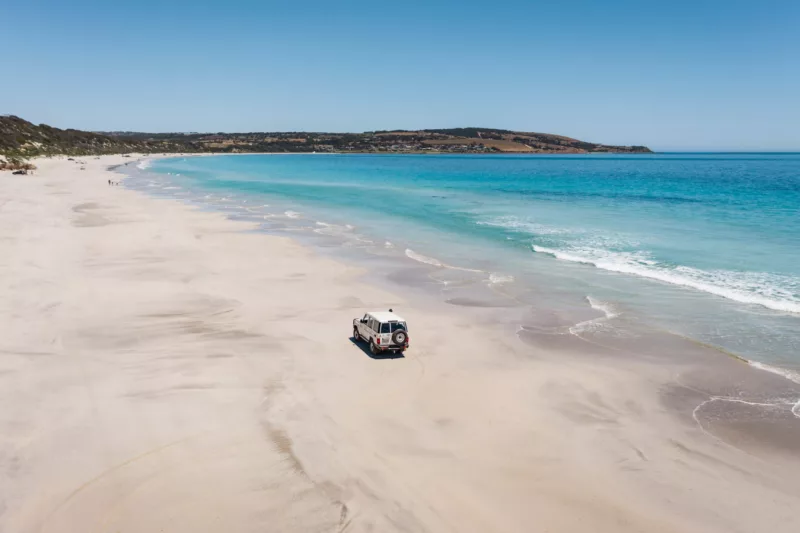 Located in South Australia's natural wonderland of Kangaroo Island or KI as locals like to call it, Emu Bay was named one of the most beautiful beaches in 2022 by Tourism Australia. It is the perfect beach to relax, fish, or take a refreshing dip in the ocean. It's the only beach on the island where you can drive right on the beach.
The 4-km long stretch and shallow waves make it one of the best swim spots in Australia. If you're lucky you may also encounter Emu Bay's Little Penguin colony. Also, keep an eye out for the giant pelicans that appear around the jetty. The jetty, which dates back to 1918, is a great place for fishing, watching the sun go down, and enjoying the incredible views.
2. Vivonne Bay, Kangaroo Island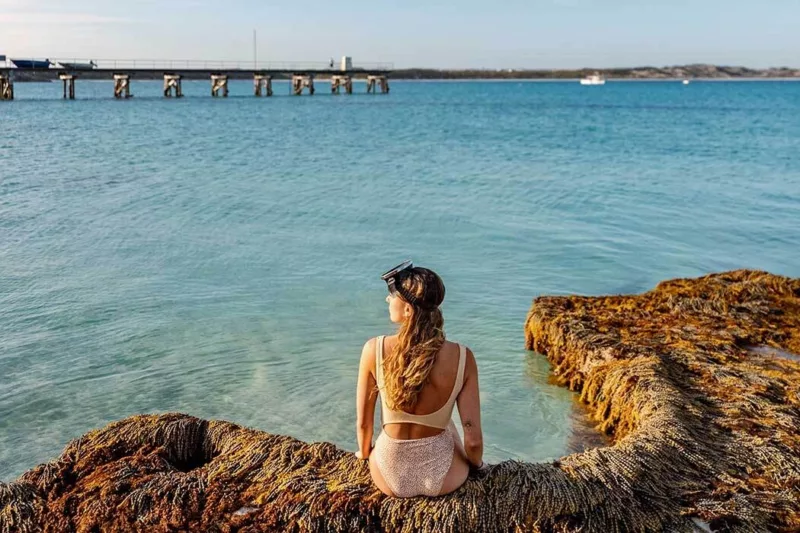 Vivonne Bay has also been voted as one of Australia's top beaches thanks to its crystal-clear water and long, sandy beach that's perfect for sunbathing and family picnics. And its incredible rock pools make the perfect backdrop for your Insta-worthy beach selfies.
Over six kilometers in length, the beach is usually quiet and is the perfect little private oasis for some much-needed rest and relaxation. Vivonne Bay is also a great spot for swimming, sunbathing, surfing, and fishing.
3. Stokes Bay, Kangaroo Island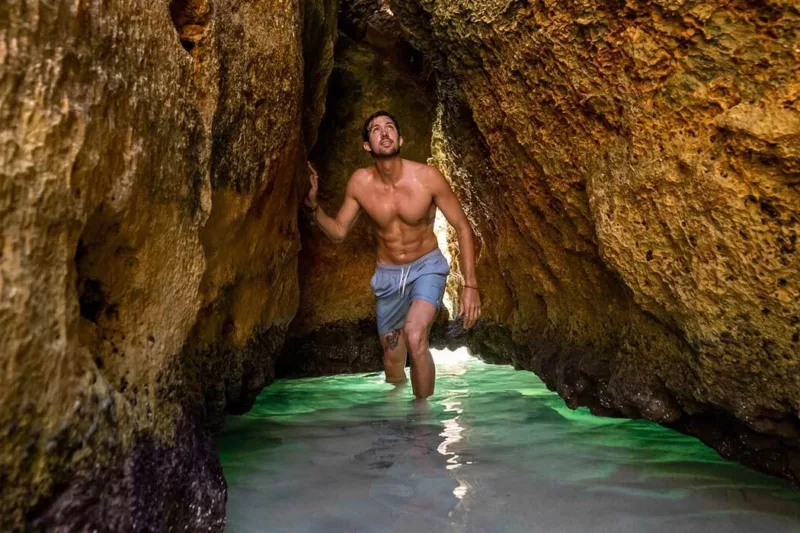 Meet the newly crowned Australia's best beach for 2023. Stokes Bay in Kangaroo Island is a secluded little gem located on the north coast. Walk through a cave-like tunnel to find the pristine beach revealing its beautiful surroundings – white sands, kid-friendly rock pools, and crystal-clear water.
How to get there:
SeaLink Kangaroo Island runs daily ferry services from Cape Jervis, 70 km south of Adelaide (South Australia) to Kangaroo Island.
4. The Neck, Bruny Island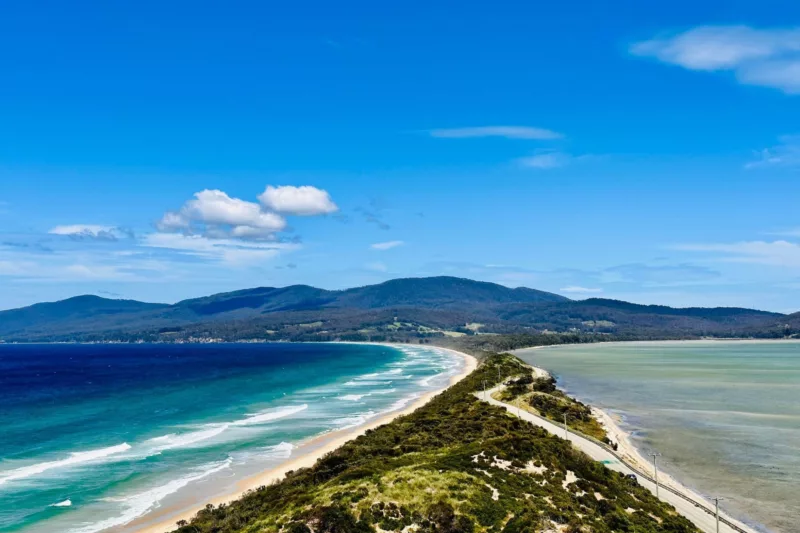 Soak in the sensational views from The Neck lookout across the narrow isthmus (a narrow strip of land) that connects North and South Bruny Island. A long, timber staircase takes you to the top where you can take in the 360-degree view of the two sides of the island and the rest of Tasmania. If you're lucky, you can also catch a glimpse of the rare local birdlife that lives here including little penguins.
5. Adventure Bay, Bruny Island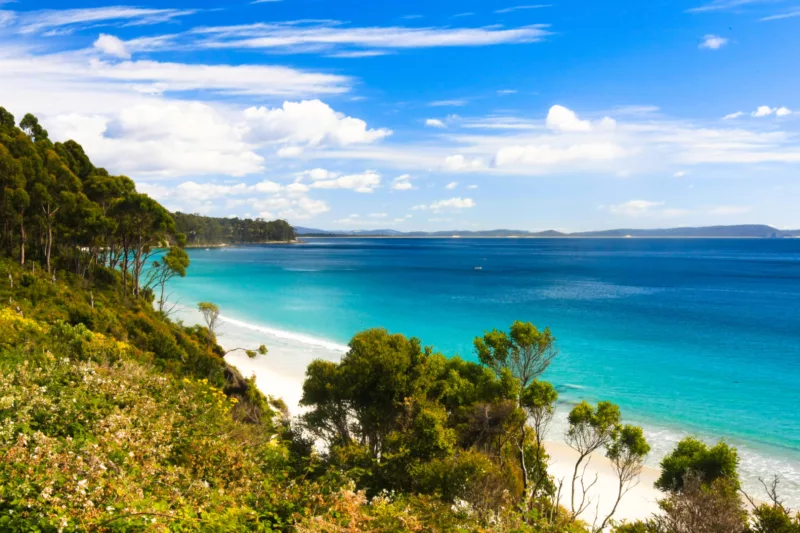 Adventure Bay is one of Bruny Island's most popular spots and is ranked no. 5 on Australia's top 10 beaches in 2023. Surrounded by large gum trees and cliffs of Fluted Cape, Adventure Bay has a sheltered feel to it. It's perfect for a swim, water sports, and fishing and is ideal for young families with kids.
How to get there:
SeaLink Bruny Island offers daily ferry services to the island with over 20 departures per day.
6. Whitehaven Beach, Whitsunday Islands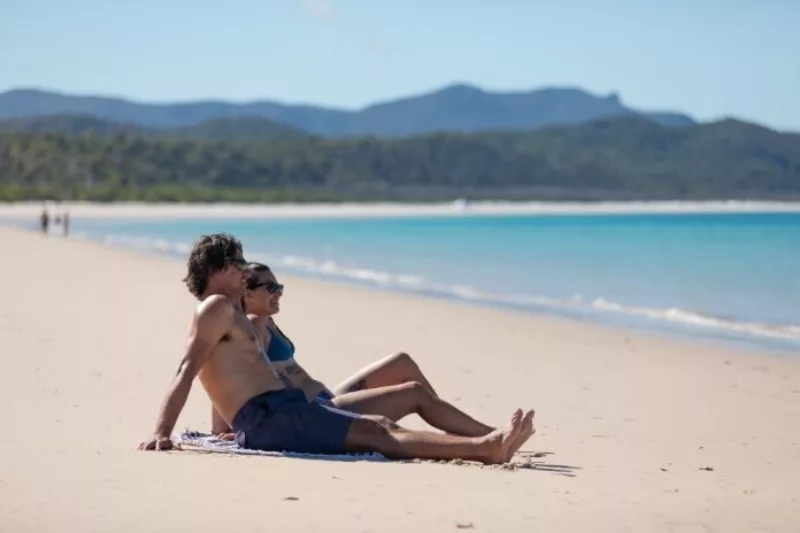 Consistently named one of the best beaches in the world, Whitehaven Beach is the crown jewel of the Whitsundays in Queensland. The sand is made of 98% pure white silica, which gives it a pristine, luminescent colour against the striking turquoise ocean.
Whitehaven Beach stretches over seven kilometers and is the perfect spot to sink your feet into the sand, splash around in the warm water or just relax on the beach. If you're up for some activity, head to the Hill Inlet to enjoy breathtaking views of the islands.
How to get there:
Explore the beautiful Whitsundays with SeaLink's Big Island Tour or head directly to Whitehaven Beach with the half-day Purely Whitehaven tour.
7. 75 Mile Beach, K'gari (Fraser Island)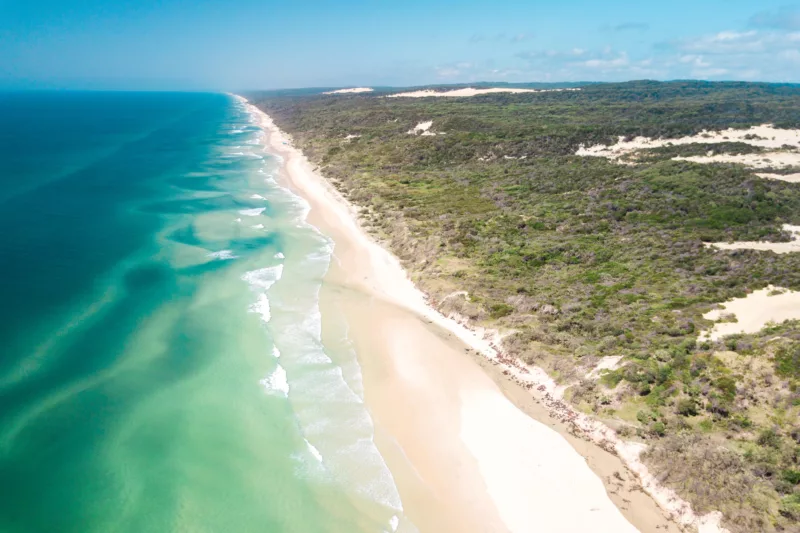 Looking for beachside adventure? Head to 75 Mile Beach in K'gari (Fraser Island), Queensland, where you can drive your 4WD along the longest beach highway. Along the way, check out the famous Maheno Shipwreck and Eli Creek. While the beach itself is not safe for swimming, it is perfect for 4WD adventures and miles of high-adrenalin fun.
Fun fact: 75 Mile Beach is a landing strip for light aircraft, so watch out for these when you're driving along the beach.
8. Lake Wabby, K'gari (Fraser Island)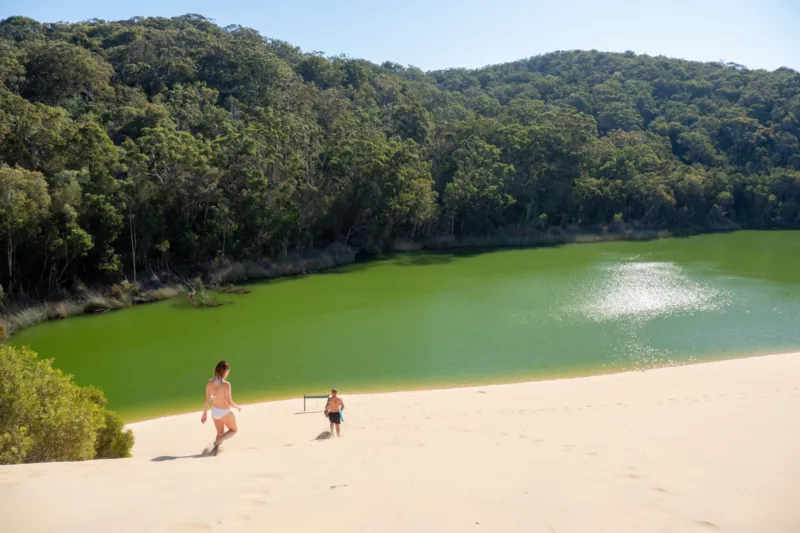 Situated on K'gari's eastern side, Lake Wabby is a crescent-shaped 11m-deep barrage lake. Walk through a forest towards the edge of Hammerstone Sandblow and the emerald green Lake Wabby reveals itself. It was formed over time as migrating sands of exposed dunes slowly blocked a coastal creek. However, today it is fighting for survival. In a few years, the sand blow will fill up the lake; so make sure to head down there while you can. Lake Wabby is home to 13 species of fish including the endangered honey blue-eye, rainbow fish, and catfish.
How to get there:
SeaLink K'gari runs daily ferry services to the island.
9. Little Salmon Bay, Rottnest Island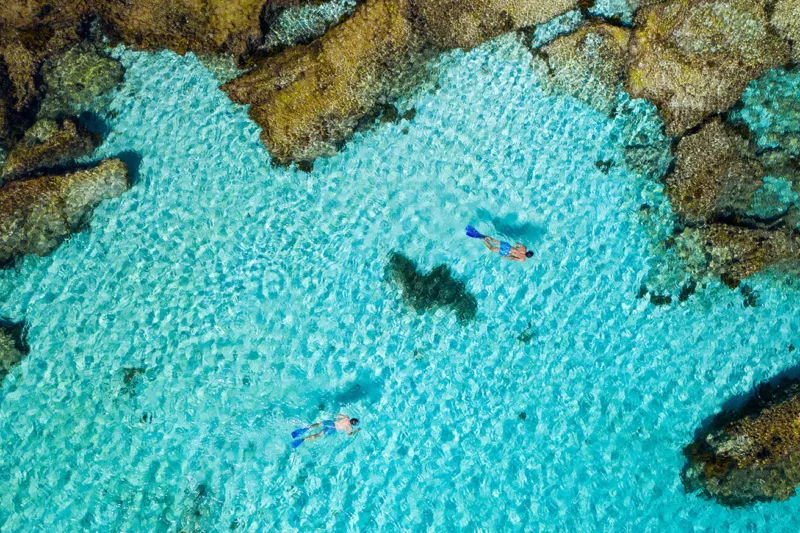 Located at the southernmost tip of Rottnest Island, Little Salmon Bay is a naturally sheltered oasis for some peaceful and relaxing swimming experience. It is also a great spot for snorkelling to discover unique plants and sea life.
10. Parakeet Bay, Rottnest Island
This beautiful crescent-shaped beach is a photographer's delight. The shallow calm water is perfect for a relaxing swim. Head down to Little Parakeet Bay and you'll be welcomed by the unreal views of the pink lake along the circuit. The bay is made of jagged rock formations and makes for a great backdrop for some stunning photographs.
How to get there:
SeaLink Rottnest Island runs daily ferry services from Fremantle to the island and takes about 30 minutes for the crossing.
11. Alma Bay, Magnetic Island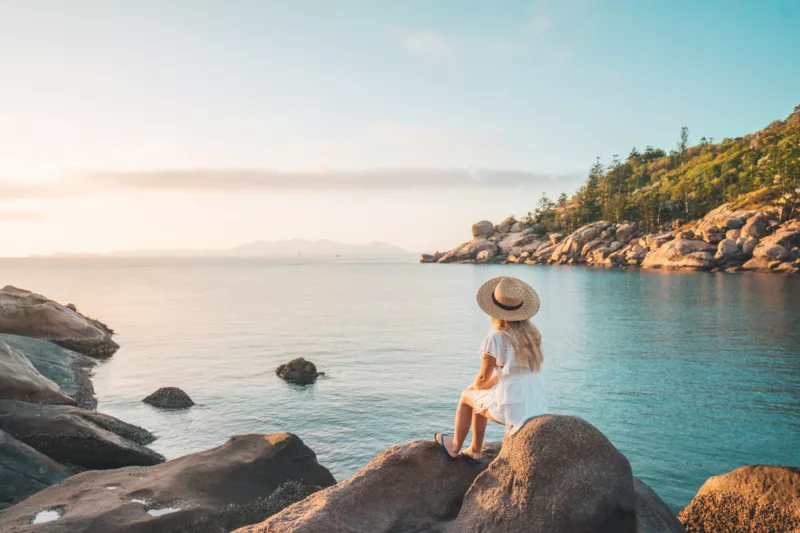 Located on the eastern coast of Magnetic Island, Alma Bay has been rated as one of Queensland's top 10 beaches. Surrounded by granite boulders, palm tree lined beach and fringing reefs, Alma Bay's calm waters attract snorkelling and diving enthusiasts.
This hidden gem is a fantastic spot to spend time with your family. The beach is always patrolled, and there's a play area on the beach for your active little ones.
How to get there:
SeaLink Magnetic Island is your fastest link to Magnetic Island. The ferry ride from Townsville takes 20 minutes.
12. Cylinder Beach, North Stradbroke Island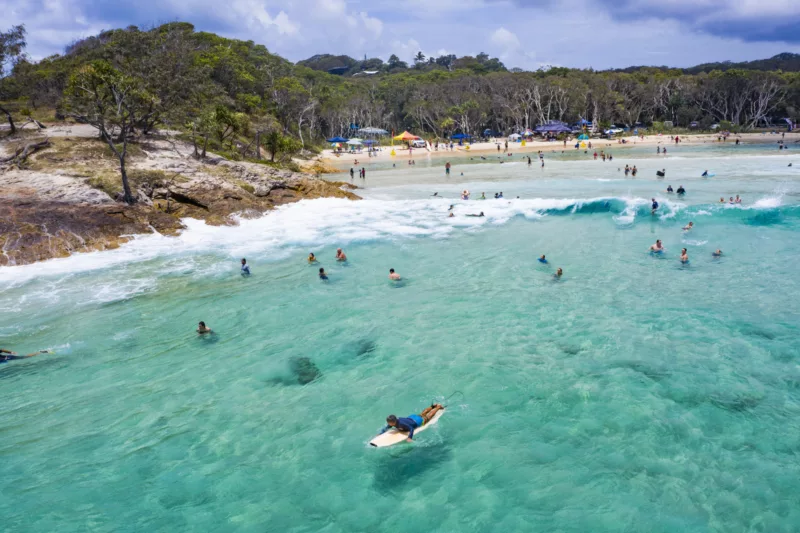 At the northern tip of North Stradbroke Island, sheltered by the headland, Cylinder Beach provides crystal clear waters. The beach is a popular swimming spot for families and you can see dolphins, manta rays, and turtles cruising past.
The beach is backed by a shady foreshore reserve, which includes barbeque and picnic areas, a playground, and public toilets.
How to get there:
SeaLink North Stradbroke operates regular passenger and vehicle ferries from Cleveland.
SeaLink connects you to some of the most beautiful islands around Australia. Discover things to see and do on your next island getaway with our blog on the best island escapes.