If you're heading over to Wadjemup / Rottnest Island, you're probably hoping to get your own quokka selfie. With everyone from Roger Federer to Kylie Minogue posting a quokka selfie on the 'gram, it's hard not to want to get in on the action.
The good news is that there are plenty of quokkas on Rottnest Island. About 10,000 in fact. With no predators on the island and a steady stream of travellers arriving daily, the quokkas are used to humans. But while they may seem tame, they are still wild animals. Be sure to treat them that way – that means no touching, no feeding and no chasing the quokkas.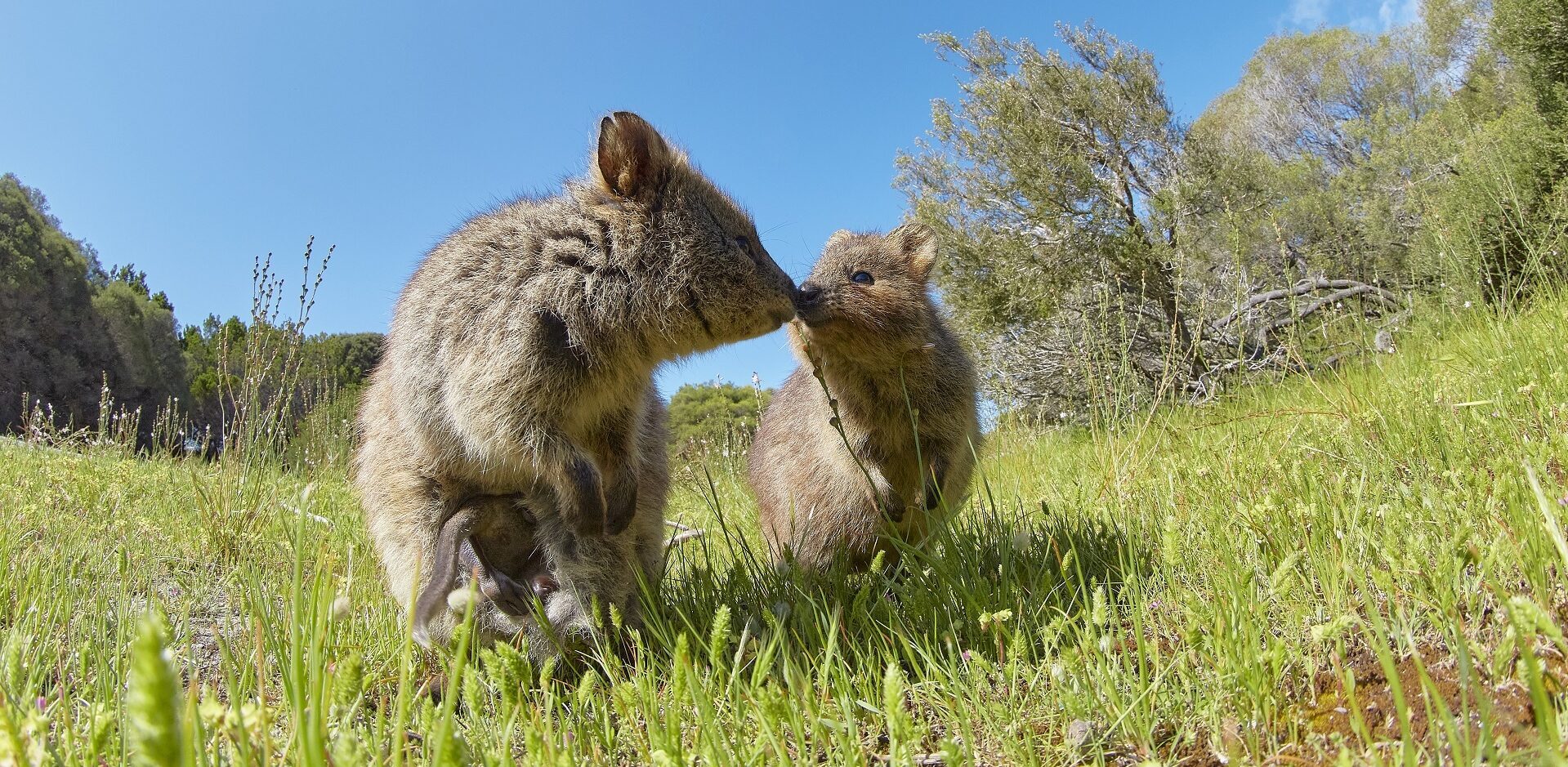 Facts about quokkas
Quokkas have been synonymous with Rottnest Island ever since the Dutch explorer Willem de Vlamingh spent 6 days on the island in 1696. He mistook the quokkas for giant rats and named the island Eylandt Rottenest (Rats Nest Island).
What are quokkas?
Quokkas are small marsupials about the size of a domestic cat. They are related to kangaroos and wallabies and mothers carry their young in a pouch on their front.
Where are quokkas found in Australia?
Rottnest Island in Western Australia is the best-known place to find quokkas. But they can also be found in a few pockets of southwest WA, including the forests between Nannup and Denmark. The total mainland population is estimated to be only around 4,000, so Rottnest Island offers your best chance to see a quokka in the wild.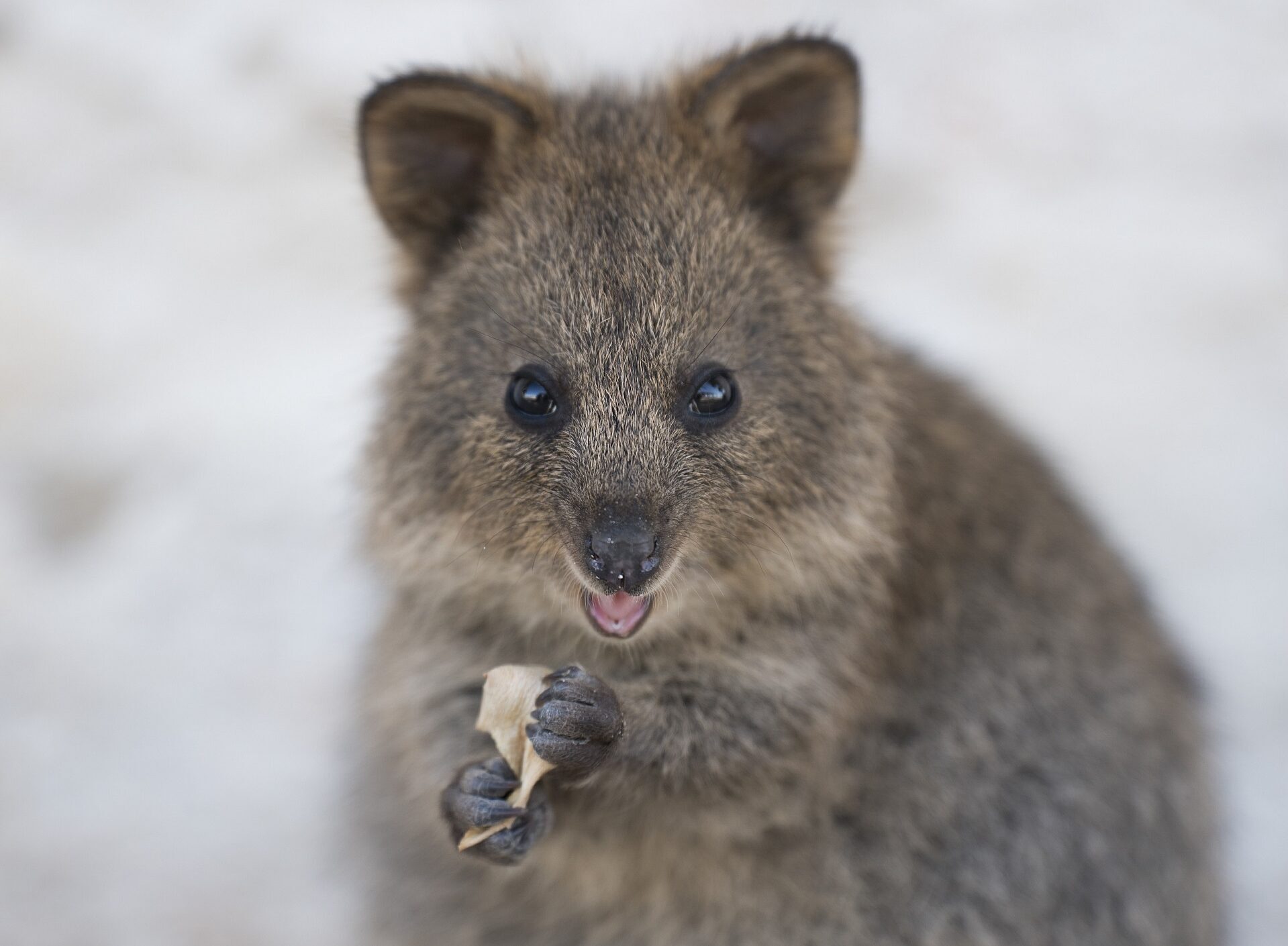 Where do quokkas live?
Quokkas live in shrubland, usually close to creeks or wetlands. They don't have burrows but usually seek shelter in dense vegetation during the day.
What do quokkas eat?
Quokkas are herbivores and dine on native grasses and plants. They prefer to eat fresh new growth. That's probably because they get most of their water from their food and can go months without drinking.
Are quokkas endangered?
While Rottnest Island is still home to a healthy population of quokkas, their numbers on the mainland have halved since the 1900s. That means the quokka is now listed as vulnerable to extinction. The biggest threats are feral animals such as cats and foxes, and habitat loss.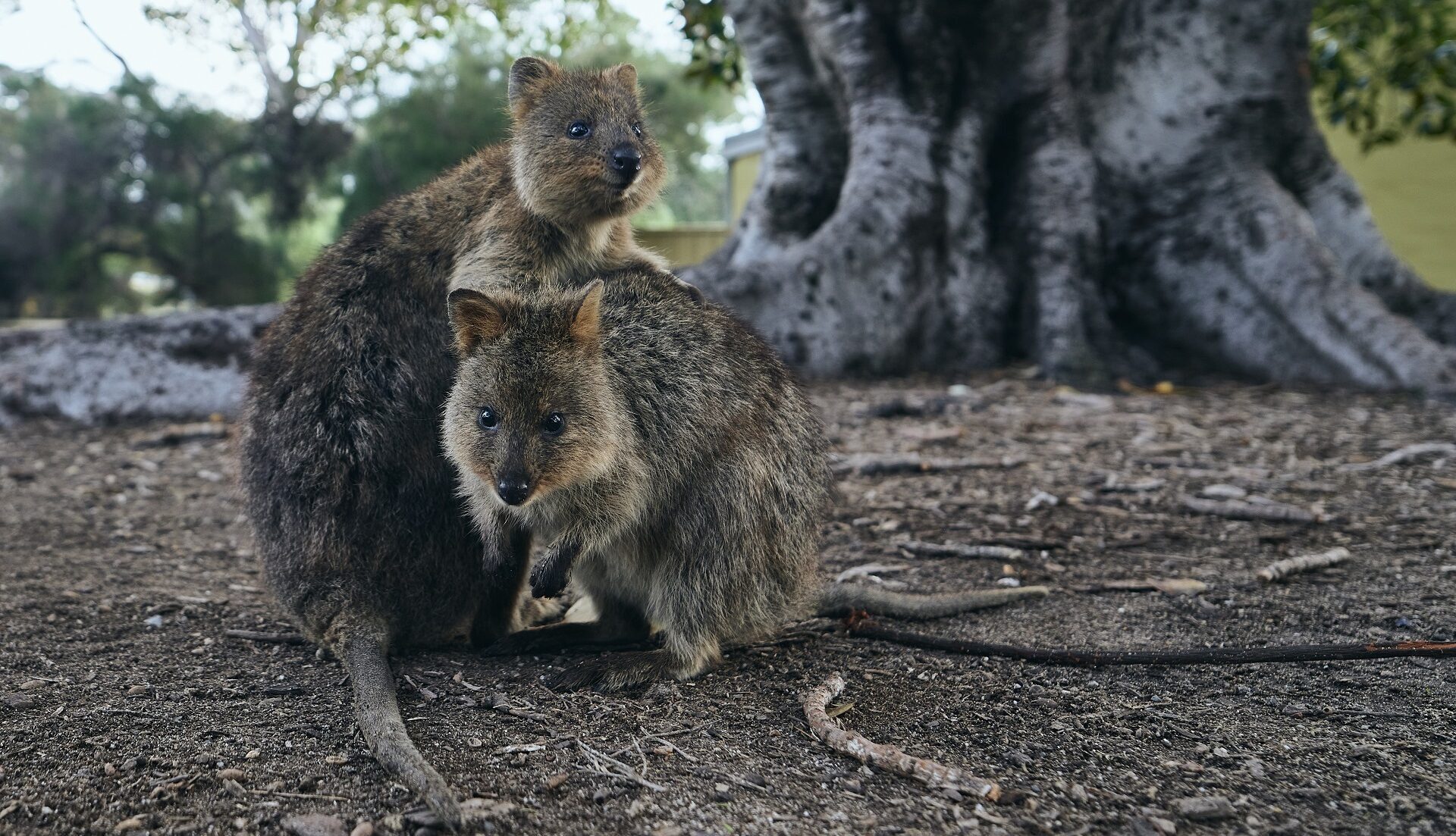 Tips for spotting quokkas on Rottnest Island
Like all wild animals, spotting a quokka in its native habitat is not guaranteed. As quokkas are nocturnal, the best time to spot them is when they are active in the early morning and evening. Look around shady and grassy areas where they may be eating. Be quiet and don't make any sudden movements to avoid scaring them off. Rottnest Island is home to around 10,000 quokkas so we're sure you will spot one eventually.
The best spots to see a quokka on Rottnest Island
You can find quokkas all over Rottnest Island. If you're on a mission to get your quokka selfie, hit these Rottnest Island quokka hotspots to observe them in their native habitat.
The settlement
After you get off the ferry, you will find most of the shops and restaurants in the settlement around Thomson Bay. Quokkas also like to frequent this area in the hope of getting a bite of your Rottnest Island Bakery sausage roll. While it can be hard to say no to their cute little faces, feeding them is seriously bad for their health. Feeding quokkas is prohibited and you could end up with a nasty fine.
Garden Lake
Outside the settlement there are several places to spot a quokka in a more natural setting. Follow Digby Drive out of the settlement to get to Garden Lake. This small permanent lake is surrounded by trees and vegetation, the perfect habitat for quokkas. Keep an eye out for them sleeping in the shade.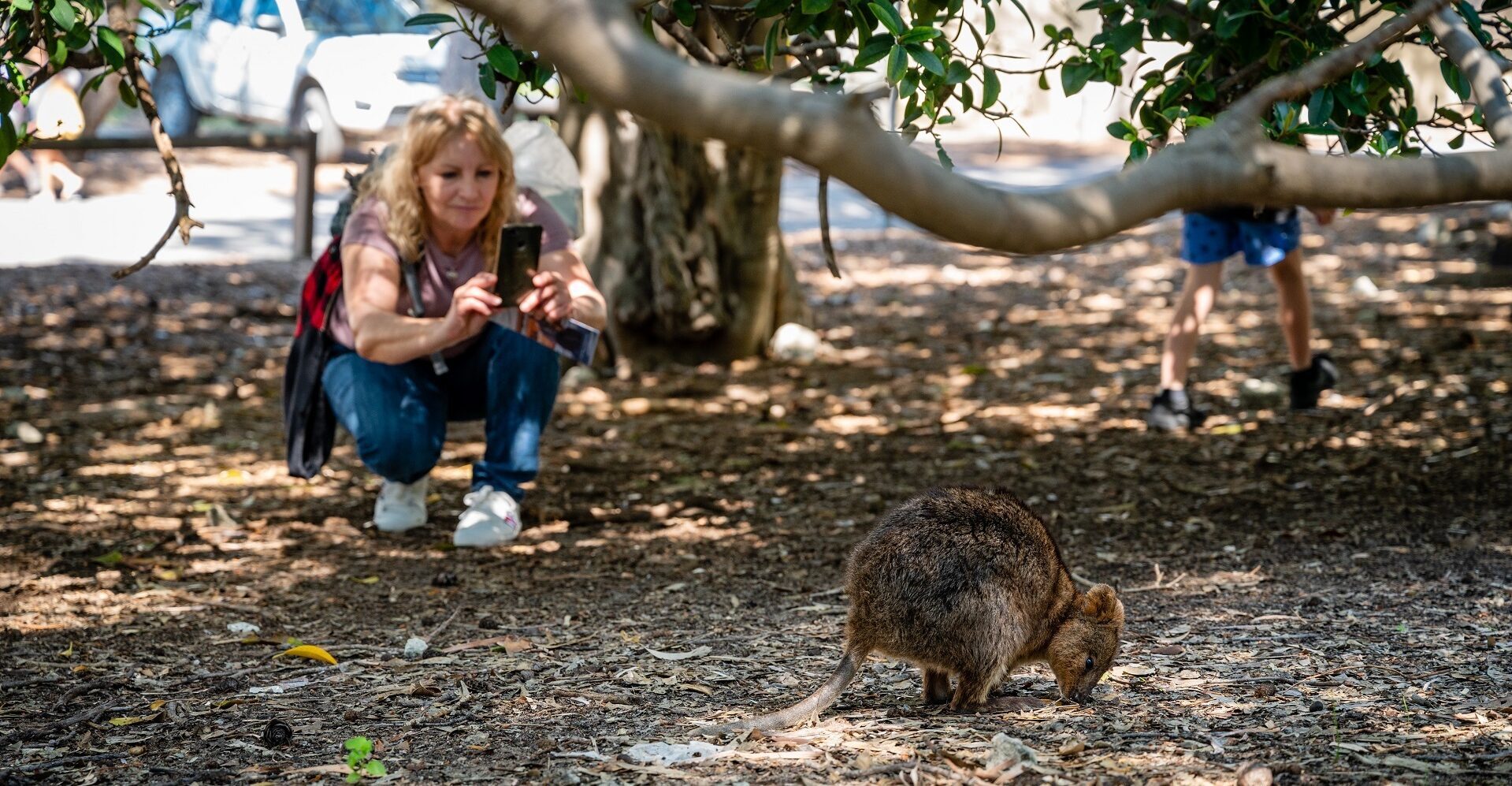 Wadjemup Lighthouse
If you keep following Digby Drive through the lakes, you will reach the bottom of a hill before Wadjemup Lighthouse. Enjoy a quick break for some quokka spotting amongst the tea trees before you ascend to the highest point on Rottnest Island.
On the way to the Basin
Quokkas love to eat grass, so it's no surprise that you can find them on the trail between the golf course and sports oval. As you walk or ride to the Basin, you may spot some quokkas in the trees opposite Discovery Rottnest Island.
Tips to get the best quokka selfie
Margot Robbie and Chris Hemsworth might make it look easy, but getting the perfect quokka selfie is harder than you think! These adorable models are usually happy to oblige a fan with a photo. But getting a snap where you are happy with both your image and the quokka's can take a few tries.
Be patient
The quokkas on Rottnest Island are used to humans and are easy to find. They are naturally inquisitive and will usually come to you if you're quiet and still. Give them plenty of space and let them interact with you on their own terms, don't go chasing them.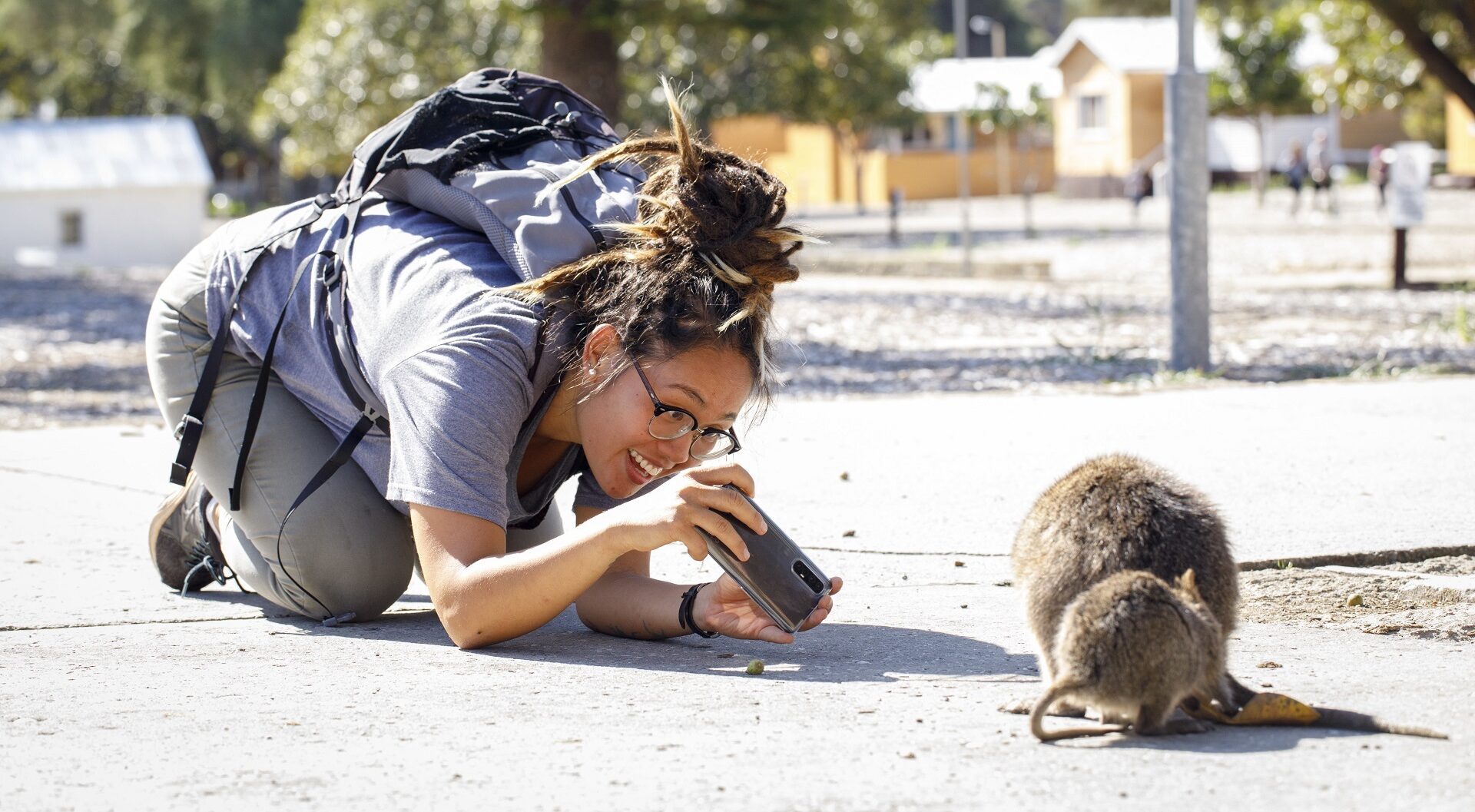 Get low
Quokkas are most likely to approach you if you are down at their level. If you can, get down on the ground. There is a reason Chris Hemsworth is lying in the leaves in his selfie with a quokka.
Dig out your selfie stick
Yes, we know it's not 2010. But the selfie stick really does make it easier to get a good quokka selfie. It allows you to get your phone closer and get a lower angle without bothering the quokka. So dig out that selfie stick for your trip to Rotto!
Use burst mode
Quokkas are wild animals that don't respond to photographic directions. Then there is the other wild animal in the photo you want to look good – you. Burst mode (when your photo takes a quick succession of photos) or a similar function is quite handy for capturing that millisecond when you both look perfect.
Avoid flash on your camera
Avoid unflattering shadows and squinty eyes by snapping your quokka selfie in the shade. Dusk and dawn are also great times to get your photo as golden hour illuminates everything with a warm glow. And stay away from flash photography.
Once you've got your quokka selfie, it's time to sit back and enjoy the incredible experience of observing these animals in their natural habitat. There is plenty more to discover on Wadjemup / Rottnest Island so get out there and start exploring! Don't forget to share your perfect selfie with us by tagging @sealinkrotto!