You don't have to travel far for a brilliant island getaway. Australia's endless coastline is dotted with some of the most stunning destinations that are perfect for your next family holiday.
As lives become increasingly busy and stressful, it is important to carve out some special time with family. And there's no better place than an island paradise for some rest and relaxation, coupled with family bonding time.
From the best kid-friendly activities to must-see and must-do experiences, we've pulled together our top recommendations for your ideal family island holiday.
Here are some of the top family-friendly islands in Australia
1. Rottnest Island, Western Australia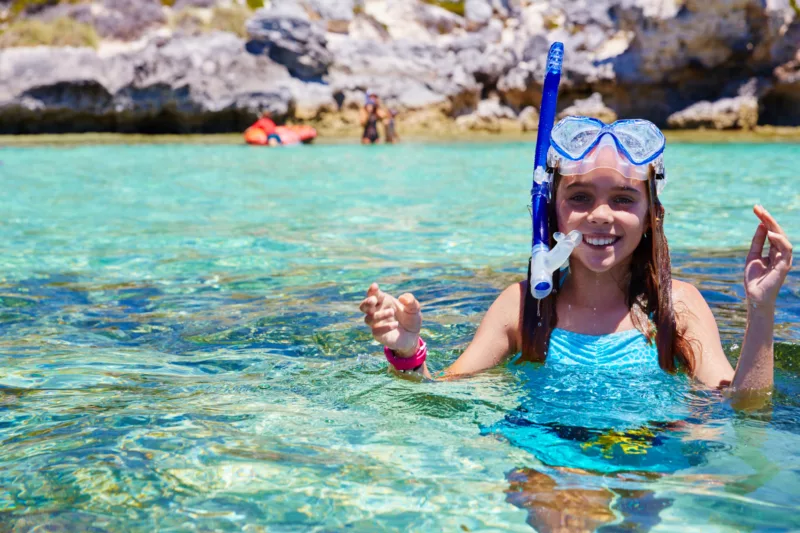 Just a short ferry ride from either Perth or Fremantle (a plus for parents who appreciate the lesser time spent on the road), Rottnest Island is the perfect family escape to relax and reconnect with your family. Take in the beauty of Rottnest Island with its crystal-clear ocean speckled with ink-blue spots, pristine beaches, and stunning snorkelling spots.
With no cars on Rottnest Island, your family can either hire bikes, take your own bikes, or opt for a Segway tour. Biking around Rottnest Island and checking out as many of the beaches and bays around the island as you can is the perfect way to tire out your little ones.
Kids will also enjoy snorkelling and swimming in The Basin, one of Rottnest Island's well-known swim spots. So, make sure to pack in your snorkelling gear. The sheltered, shallow waters are safe for children and adults can grab a spot in the picnic area.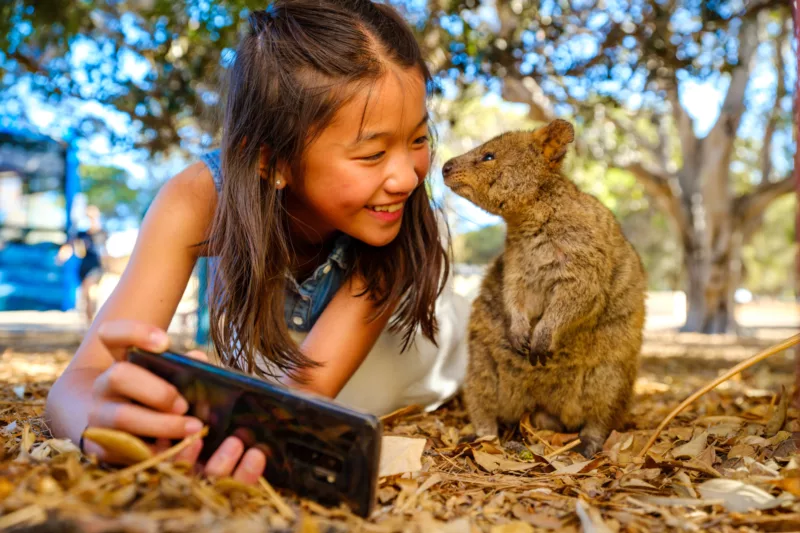 Before you leave, don't forget to snap a selfie with the friendly Quokka – it'll be the perfect keepsake from your family holiday.
If your child is fascinated with history, a trip to the two lighthouses on the island is a must. The Wadjemup Lighthouse is a scenic spot, and you can explore the precinct with the help of self-guided signage. Bathurst Lighthouse is situated on the northern edge of the island. It's a great spot to watch the sun go down and take in the beauty of Pinky Beach.
How to get to Rottnest Island:
SeaLink Rottnest Island is the best way to get to Rottnest Island. And the best part? Take advantage of the 'kids travel free' offer, where a child can travel free with every adult ticket.
2. Kangaroo Island, South Australia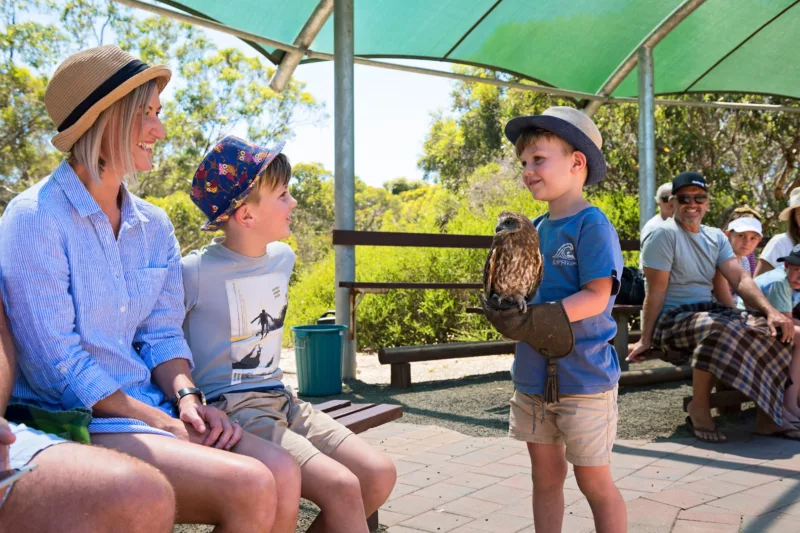 Kangaroo Island is a nature lover's paradise. Its picture-perfect beaches, pristine rock pools, unique landscape, heaps of adventure activities, and more make Kangaroo Island the perfect destination for a family holiday. And the best part? Kangaroo Island is blessed with incredible wildlife - your kids can get ample opportunities to get up close and personal with koalas, kangaroos, wallabies, sea lions, dolphins, seals and many more local animals.
If they love being in the water, check out Kangaroo Island Marine Adventures where you can swim with wild dolphins. This activity promises to bring you and your family memories for a lifetime. For the little adventure seekers, Little Sahara is a unique experience where adults too can let their inner child out. Surf the sand dunes on a sandboard or slide on toboggans or go for a bike tour to check out the breathtaking landscape.
For wildlife and birdlife enthusiasts, head to Raptor Domain to see an entertaining and educational presentation on 'Birds of Prey'. Kangaroo Island is also home to Australian sea lions – witness them in their natural habitat at Seal Bay. This experience is voted as one of the top things to do on Kangaroo Island by Trip Advisor.
How to get to Kangaroo Island:
SeaLink Kangaroo Island is the best way to get to the island. The ferry takes about 45 minutes.
3. K'gari (Fraser Island), Queensland

K'gari (Fraser Island) is your ideal tropical island getaway. Soak up the sun and enjoy an unforgettable family adventure – from ranger-guided activities for kids, interactive wildlife experiences, and a lesson in history at the many World-Heritage-listed wonders.
Make the award-winning Kingfisher Bay Resort your base for all K'gari (Fraser Island) adventures. Its Junior Ranger program during school holidays is a great way to introduce your children to the many wonders of nature. Kids can find glowing scorpions, and croaking frogs and hunt for dingo footprints on the sand. Older kids can try the segway and canoe tours.
For more adventure, drive along the 75 Mile Beach, float down Eli Creek in a tube or swim in the essential oil-infused Lake McKenzie. There's plenty to see and do on K'gari (Fraser Island).
How to get to K'gari (Fraser Island):
SeaLink K'gari is the best way to get to Fraser Island. The ferry crossing is approx. 50 minutes and departs daily from River Heads.
4. Magnetic Island, Queensland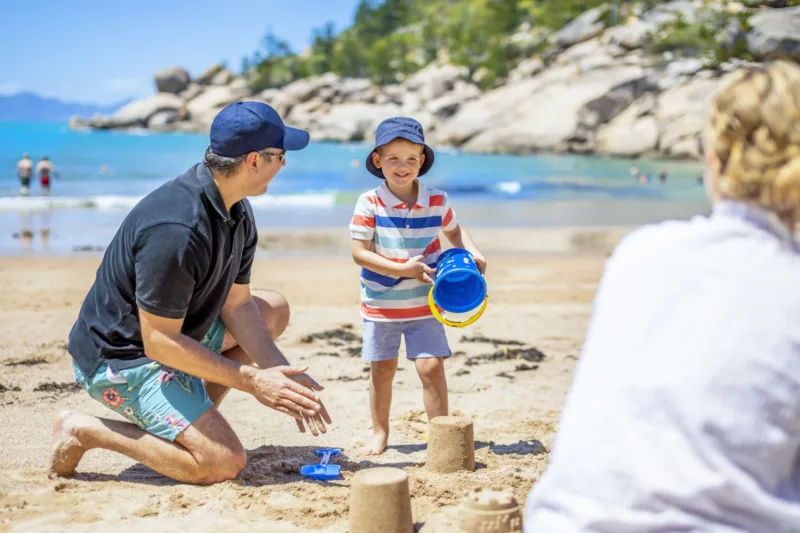 With beautiful weather all year round, Magnetic Island offers plenty of opportunities for adventure, thrill, and fun for your family. Discover hidden bays and hike across picturesque trails, Magnetic Island is a natural playground for families. And the best part? It's only a short 20-minute ferry ride from Townsville with SeaLink.
Spend the day on one of the many beaches on Magnetic Island. Our top pick is Alma Bay, which has a shaded area, playground, and picnic tables, and the water is usually calm and kid-friendly.
For animal lovers, there's plenty of wildlife to spot too – you can get up close with a koala, witness the beauty of the majestic whales during migration (August to October) or spot giant wombats. And if you much prefer life underwater, Magnetic Island offers plenty of unique snorkelling and diving spots. Check out the Nelly Bay Snorkel trail, which is ideal for all age groups. Magnetic Island's proximity to the Great Barrier Reef is a major plus too.
There's a tonne of water sports and water-based activities including jet skiing, kayaking, paddle boarding, and more.
How to get to Magnetic Island:
SeaLink Magnetic Island is the fastest way to get to the island. Check out SeaLink's special offers on family travel and save on your ferry tickets to Magnetic Island.
5. North Stradbroke Island, Queensland

North Stradbroke Island is an ideal beach holiday destination for families. Freshwater lagoons, rainforests, and abundant wildlife are just some of the many things you can experience on your family getaway.
North Stradbroke Island is known for its unique natural lakes such as Brown Lake and Blue Lake. For families that love a good workout, explore the island on foot through one of its many walks. Head to the North Gorge Walk, which offers one of the best views on the island. While it is an easy walk, make sure to avoid the unfenced areas. There are quite a few steps, which can be tricky for parents with prams. Make sure to get enough breaks and enjoy the view.
If your child is over the age of 12, you can hire an electric scooter to explore the island. Straddie (as locals like to call it) is home to iconic Australian native wildlife such as koalas, agile wallabies, the skink and more.
How to get to North Stradbroke Island:
SeaLink South East Queensland runs both vehicle and passenger ferry services to North Stradbroke Island so you can take your own car or catch the island bus service - SeaLink's passenger ferry timetable lines up with the bus timetable which is super convenient.
6. Whitsundays, Queensland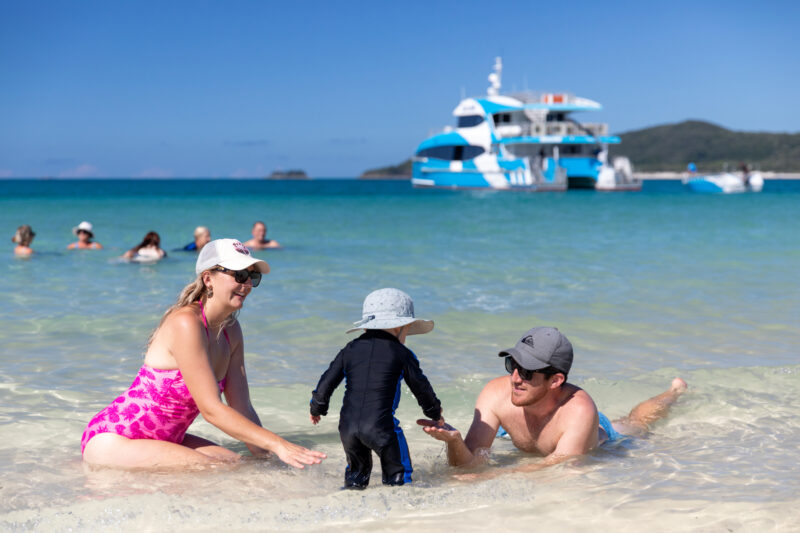 The iconic Whitsundays is one of the world's most stunning destinations. Surrounded by over 74 islands, Whitsundays is the beating heart of the Great Barrier Reef. Curious about life underwater? The Great Barrier Reef is the largest marine playground where you can witness over 600 types of hard and soft coral stretching out over 2,300 kilometers. This world-heritage-listed site is even visible from outer space!
Want to enjoy a lazy day on the beach? Whitehaven Beach is the perfect family-friendly destination with seven kilometers of pristine white sand and turquoise blue water. Hike up to the Hill Inlet Lookout to take in the mesmerising view of swirling sand and crystal-clear azure-blue water.
What to do in the Whitsundays:
Book the Whitehaven Beach Big Island Day Tour, a truly one-of-a-kind experience that takes you to places that no other Whitsundays Island tour does. If you're looking to make the most of your stay at Whitehaven Beach, opt for the direct tour – Purely Whitehaven.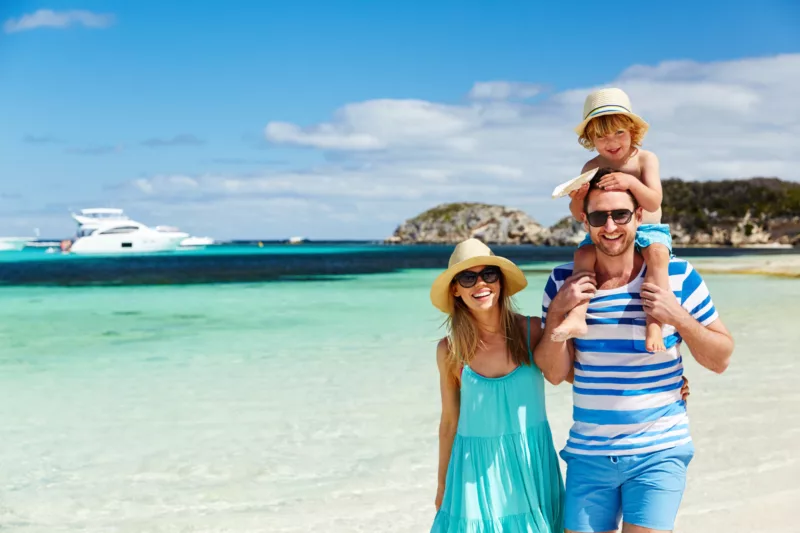 Helpful tips for travelling with kids

Let them choose – Give your children options to choose their preferred activity. Whether it's a half-day snorkelling tour or spending their morning splashing around in the pool – let them pick so they feel involved and a part of the decision-making process.
Pick a good guide – A good guide can make a huge difference to your child's involvement in a specific activity or a tour. When you're researching tours make sure to look for specific reviews about guides and how well they engage with kids.
Don't overpack – It can be quite tempting to prepare for any and every situation. But the trick is to pack the essentials and medicines that you may not have access to at your destination. Everything else can be sourced if and when you need it. And always opt for packing cubes that fit into your bags and suitcases. It's one of the best ways to separate and organise items for each member of the family.
Leave plenty of time – When travelling with kids it's important to account for meltdowns, exhaustion, and tiredness to slow you down. Make sure you plan your travel with enough buffer, so you don't miss your flights, ferries, cruises, or trains and take some of the stress that can come with travelling with children. Remember, you are on holidays so make the most of enjoying the entire experience without extra pressure.
Bring activities for the journey – Kids tend to get bored of looking out of the window and we're sure you're familiar with the ever-so-common question: "are we there yet". Carry a few colouring books, crayons, colour pencils, and sticky notes. These can help keep your child entertained for a few hours while you enjoy a few moments of peace.