In a positive sign for recovery from the devastating Murray River floods, the Southern Hemisphere's largest inland paddlewheeler, South Australia's own Murray Princess, will be back cruising from Friday, 17 March 2023.
After almost four months moored at Mannum while SA experienced one of its biggest Murray River floods in history, the Princess crew is eager to return to the water – and the flood-impacted towns along its cruising route are ready to welcome a new wave of tourists with open arms.
It's been a challenging time for affected river communities and tourism operators, with many still facing a lengthy recovery period. An important part of that recovery is encouraging visitors back to experience the unique beauty of the mighty Murray River and to support the region's local economy.
SeaLink Marine and Tourism General Manager South Australia Tracy Croft, said the Murray Princess's return would bring significant economic activity back to river communities impacted by the floods.
"These towns have faced months of uncertainty and devastation due to the floods, with many businesses and tourism operators forced to close during what is usually a peak period for trade," Ms Croft said.
"Having the Murray Princess return to operation, even better with additional dates released between now and September, means thousands of visitors will again be returning to these towns over coming months, at a time when their support is most needed to kickstart recovery.
We work with over 30 local businesses – including suppliers, offshore touring operators and destinations – and our cruises will give these businesses guaranteed and consistent trade."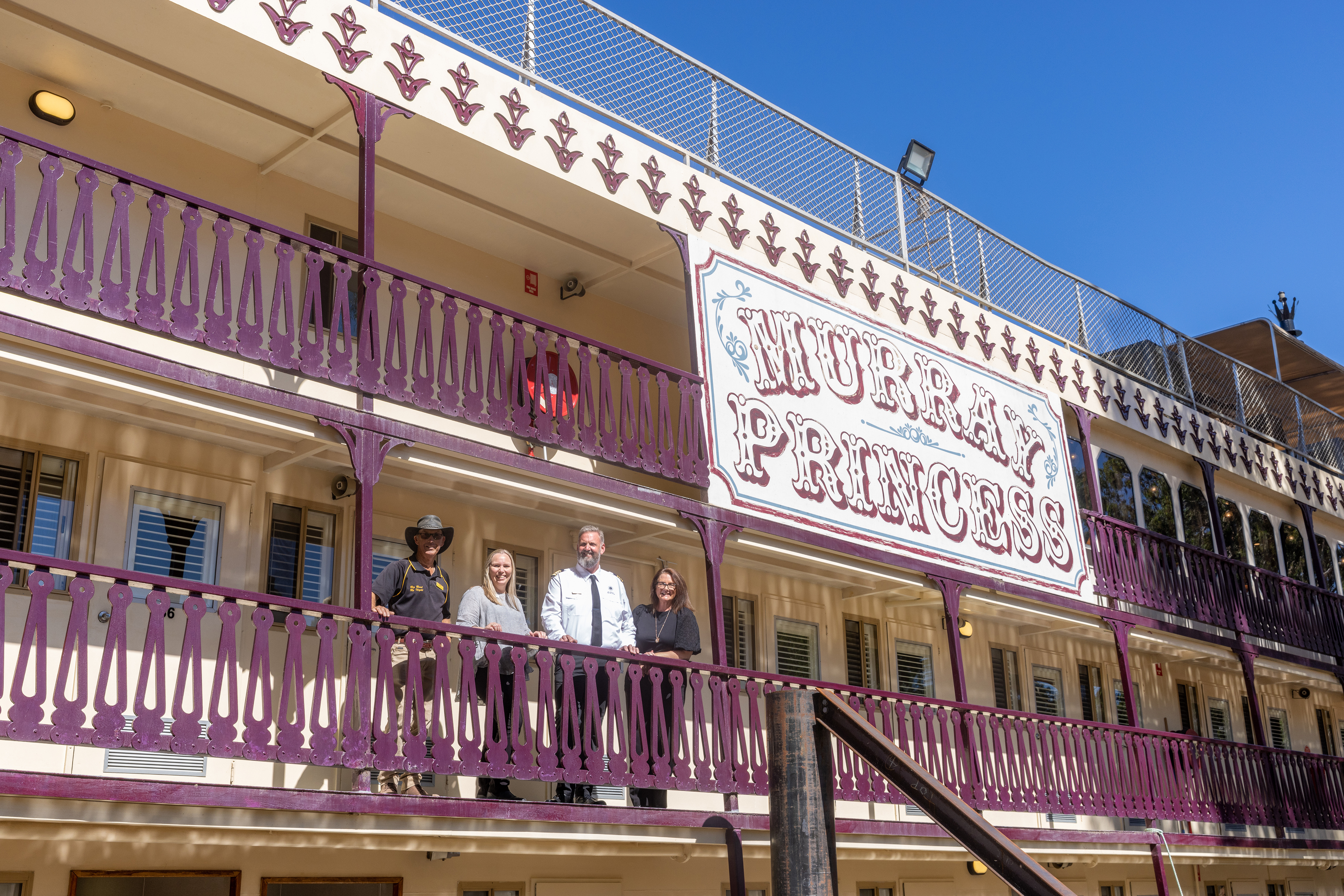 The Murray Princess Captains, crew and onshore touring partners are looking forward to welcoming guests when the popular three, four and seven-night cruises resume.
"We can't wait to get back cruising, doing what we love and showing off this beautiful part of South Australia to our guests," says Murray Princess Captain Gus Smith.
"I was fortunate to be part of the leadership and the wider team that was able to secure the Murray Princess in the river during the flood – what was done was nothing short of an immense job to make sure she was secure enough to ride out the flood."
The Murray Princess survived the flood undamaged after extensive preparation work to her moorings at Mannum, as well as a buoy surrounding the entire boat to deflect any large floating debris, and a dedicated crew keeping a nightwatch on the vessel at all times.
"It was wonderful to witness Mother Nature in all her glory – but we have to acknowledge the devastation that has been left behind and the long recovery ahead," Captain Smith said.
"We're all so excited to get back out there. Getting my crew back to what they love doing, meeting our guests again and raising awareness of the Murray River systems and the impact of the floods is what we're looking forward to most. We've also missed all of our suppliers and onshore operators, so we can wait to reconnect with them."
Extensive investigations have been undertaken by Captain Smith and his team to ensure all moorings for the Murray Princess are safe, and to scan the river channel for significant changes in depths or the placement of large debris.
Mid Murray Council Mayor Simone Bailey said seeing the Murray Princess' relaunch was a sign of hope for the whole region's ongoing recovery, and especially for the Mid Murray area – home to the iconic paddlewheeler.
"These floods have really challenged our community – we've seen the devastation to homes and businesses it has caused, the economic impact of the loss of trade, and the overall fatigue and anxiety that comes with living through the uncertainty of a drawn-out disaster of this magnitude," Mayor Bailey said.
"We're excited by the Murray Princess' return to cruising, and to welcome back the first passengers to Mannum and our wider district. The reality is that many of our campgrounds and other riverfront facilities such as our local caravan parks and reserves will take a while to fully recover and reopen. In the meantime, the visitors coming for a Murray Princess cruise will provide a much-needed boost to our local economy and support for our tourism operators and businesses while we rebuild."
Tourism experience providers Big Bend By Night are one of the local businesses to directly benefit from the Murray Princess' return. Owner David LeBrun said the weekly visits by the tourist vessel for a shearing show, nocturnal tour and bush tucker breakfast will help them get back in business.
"We'll be welcoming them back with open arms and warm hearts," Mr LeBrun said. "It's been a tough time as a business. We've missed the interaction with people because we're in an isolated spot out here – but we've got a beautiful location for the scenic river cliff views that we love to share with visitors.
"We've had no bookings for three months - all our income is from the Murray Princess, houseboats or school groups. The relaunch of the Princess gets us up and going again, out of worry-mode and straight back into it."
The largest inland paddlewheeler in the Southern Hemisphere, the PS Murray Princess is an icon of river cruising. Its return to the water will allow visitors to see the impact of the floods, the regeneration of the floodplains, and the majesty of the river's stunning cliffs and tranquil hidden places.
Visit murrayprincess.com.au for information or to book your PS Murray Princess cruises to this special region.