We use cookies on this site to enhance your user experience. Find out more in our Privacy Policy. By clicking any link on this page you are giving your consent for us to set cookies.
Terms and Conditions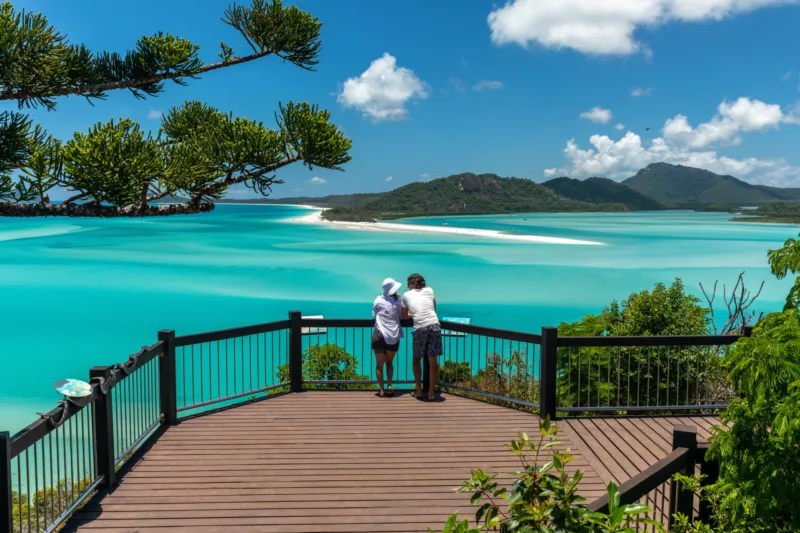 Booking & Cancellation Policy
Terms and conditions
All costs, itinerary details, and information are correct at the time of publishing; however, these can be subject to alteration, sometimes without notice. All services and reservations provided are subject to the conditions of the principal providers and no responsibility is accepted by SeaLink Whitsundays for misrepresentation, unforeseen omissions, or additional costs incurred, including those arising from adverse weather conditions. No credit or refunds are available for unused services. Travel insurance is highly recommended.

All fares and prices are in Australian Dollars and are valid from 1 April to 31 March inclusive. All fares and prices are subject to availability, surcharges, blackout periods, and seasonal variations. Always check your travel documentation for final prices. High Season rates may apply to all bookings and all rates quoted are 'from' rates.

A 1% fee for VISA, MasterCard & American Express of total booking cost will be charged when paying for travel, service, package or product via these methods.

Bookings can only be secured with 100% payment.

Applicable to all SeaLink Whitsunday Tours. Cancellation of a booking of part thereof will incur the following fees:


Between 14 days and 48 hours before departure – 20% of the total cost
Within 24 hours – 48 hours before the tour- 50% of the total cost
Within 24 hours of departure -100% of the total cost

If a tour is cancelled by SeaLink Whitsundays due to inclement weather or unforeseen circumstances a transfer to another date of travel or full refund will be offered.

A 'no show' will incur 100% penalty. No refunds are given.

No refunds will be made for services not availed once travel has commenced. All refund claims must be made in writing. Please note operators/agents (other than SeaLink Whitsundays) reserve the right to charge cancellation fees in addition to the above.

Due to tidal restrictions and weather conditions on the day the direction, destination and order of travel may change.


Guest requesting a change to the day of travel or other amendments to the original booking may incur a fee.

SeaLink must comply with Queensland Government Public Health orders and directives. For the latest Queensland Government Public Health and Social Measures lined to COVID-19 and vaccination status rules and requirements please visit www.covid19.qld.gov.au/

Holiday plans can be disrupted and cancellation fees can be costly. Travel insurance is inexpensive and highly recommended. Please note that Travel Insurance may not cover disruptions caused by mechanical breakdowns or adverse weather conditions.

Child prices generally apply to children aged 5 to 14 years, inclusive. Children under 5 years of age travel free of charge on SeaLink Whitsunday Tours.

Gift vouchers purchased from SeaLink Whitsundays have an expiry of three (3) years from the date of issue. Please present this gift voucher to our sales team at the time of travel to exchange for your boarding pass and/or travel vouchers. Please note that arriving early at the terminal is recommended. Bookings are essential for all products and must be done prior to the expiry. At the time of booking, please quote the reference number found on this gift voucher. The gift voucher must be surrendered at the time of ticket collection. Gift vouchers will not be extended in validity. The value of the gift voucher is in Australian Dollars ($AUD). Redemption of gift vouchers is subject to SeaLink Whitsundays standard Terms and Conditions and is valid for use towards any SeaLink Whitsundays product. Gift vouchers cannot be used to pay for travel retrospectively and cannot be exchanged or redeemed for cash. Any costs in addition to the value of this gift voucher are payable by the customer at the time of booking.

SeaLink Travel Group values your privacy. For full details please read our privacy statement available here.

SeaLink is not a common carrier and reserves the right to refuse to carry any passenger, baggage or goods at its discretion.

As a passenger, you agree that you will accept the delivery of services from SeaLink at your own risk. SeaLink will not be liable for any loss or damage, howsoever or whatsoever caused, as a consequence or arising, indirectly or directly, out of the provisions of services to a passenger, including, loss and/or damage occasioned by SeaLink and/or its agents and/or its employees' negligence.

When you travel on a SeaLink service, you must:

a) be present at the terminal a minimum of fifteen (15) minutes prior to the service's scheduled departure time (Please refer to your travel itinerary for SeaLink Whitsundays tour check-in times)
b) respect our employees, including our vessel crew and promptly obey any instructions given to you, including a direction to provide your ferry ticket.
c) listen carefully to the safety briefing, identify your nearest exits, and familiarise yourself with the location and operation of safety equipment.
d) behave in a way which does not disturb or cause offence to your fellow passengers;
e) drink in moderation and only consume alcohol which we supply to you on the vessel – not alcohol that you bring on board with you.

All children under the age of 16 years must be accompanied by a parent or guardian when onboard the SeaLink Whitsunday vessels.

When you travel on a SeaLink service, you must not:

a) Smoke, (including e-cigarettes);
b) behave in a manner which would be considered by a reasonable person to be offensive, or in a manner which might cause discomfort, distress, offence or injury to another person;
c) board, or alight from, or attempt to board or alight from the vessel whilst it is in motion, or without permission from the crew.
d) disobey the directions of the staff or vessel crew;
e) be under the influence of or use illicit drugs on board our vessel, or use prescription drugs which you are not medically required to take;
f) do anything which may endanger the safety of the vessel on which you are travelling, or the safety of our vessel crew or your fellow passengers; and
g) tamper, interfere with or damage any part of the vessel or the equipment carried on board.
h) undertake activities such as cycling, roller-skating, skateboarding or any other such potentially hazardous behaviour.
i) perform upon any musical instrument, distribute any advertising materials or offer any product for sale within the terminals or onboard the ferry, unless prior permission from SeaLink is approved.
j) obstruct passageways, if required please seek assistance from the crew with regards to where to place luggage, pram or wheelchair during the voyage.

We reserve the right to take all steps which are reasonably necessary to ensure the safety of our employees and guests on board the vessel. If in the opinion of our crew you have not complied with your obligations as stated in these Conditions of travel we may take steps which include any one or more of the following:

a) move you to another seat, or another part of the vessel;
b) remove you from the vessel;
c) report you to the relevant authorities;
d) refuse you from travelling on SeaLink services, for any duration of time we believe is appropriate.

You may be refused boarding of the vessel, or be requested to leave the vessel:

a) If you are in breach of these Conditions, objectionable to other passengers or our employees, or are for any reason, disturbing, causing discomfort to or threatening the safety or security of other passengers or our employees or any of our property; or
b) If it appears to us that you are under the influence of alcohol or drugs or are not physically or mentally fit to travel; or
c) You have failed to comply with our reasonable directions (including the directions of our staff and vessel crew); or
d) You have not paid the Fare or any applicable taxes or charges, your Ticket has been reported lost or stolen (if applicable), has been dealt with by you in a way which contravenes these Conditions or has otherwise been acquired unlawfully; or
e) You are, or are suspected to be, unlawfully in possession of drugs, or in possession of illicit drugs; or
f) You have tampered in any way with the vessel or its equipment, made a threat, or in any way put the safety of the vessel in danger; or
g) If we reasonably believe that you may pose a threat to the safety or security of the vessel, other passengers or our employees.