SeaLink Whitsundays
SeaLink Whitsundays is part of Kelsian Group Limited. What started as a single twin-hulled ferry service travelling to and from Kangaroo Island in South Australia, Kelsian Group has since grown to be Australia's largest integrated land and marine, tourism, and public transport service provider transporting over 200 million customers each year. Kelsian Group also has established international operations in London and Singapore.
With over 30 years of experience delivering tourism experiences and passenger transport services, the Kelsian Group is a leader in sustainable public transport as the operator of Australia's largest zero-emission bus fleet and Australia's largest electrified bus depot.
With around 9000 employees, we are one of Australia's most experienced and diverse multi-modal transport businesses operating around 4000 buses, 120 ferries, and 24 light rail vehicles.
SeaLink Whitsundays began operating vessel transfers to and from Hayman Island's Intercontinental Hotel in September 2020 and in December 2021 tour operations began from Shute Harbour.
The first full-day tour of its kind in the Whitsundays – The Big Island Day Tour offers guests a spacious vessel with air-conditioned comfort and gourmet food options.
Due to the popularity of the full-day tour, in December 2022 a half-day tour – Purely Whitehaven was introduced. The tour offers a direct route to the bucket list destination of Whitehaven Beach.
After just over 12 months in operation, SeaLink Whitsundays achieved a 100 percent five-star scorecard for customer reviews on TripAdvisor and Google Business Listings, anchoring its position as a valued marine transport and tourism operator in the region.
SeaLink Whitsundays is a proud supporter and major sponsor of various community events and groups, including The Airlie Beach Festival of Music as a Platinum Sponsor, The Great Barrier Reef Festival as a Silver Sponsor, and The Whitsundays VMR as a Gold Sponsor.
SeaLink Whitsundays continue to foster relationships and seek opportunities within the Whitsundays Region, that aim to create sustainability in tourism and benefit the wider community.
Our People
We are proud to say our people are at the core of our business. We take the responsibility of providing a safe, inclusive, and accessible workplace, where our team members and customers feel acknowledged, respected, and appreciated seriously.
Committed to enabling people to bring their whole selves to work, we allow our people to be their best, bring their best, and feel their best. In doing so, we seek to create exceptional employee and customer experiences. We will always champion inclusivity across our business to promote and support a workforce representative of the diversity of our customers and the Australian community.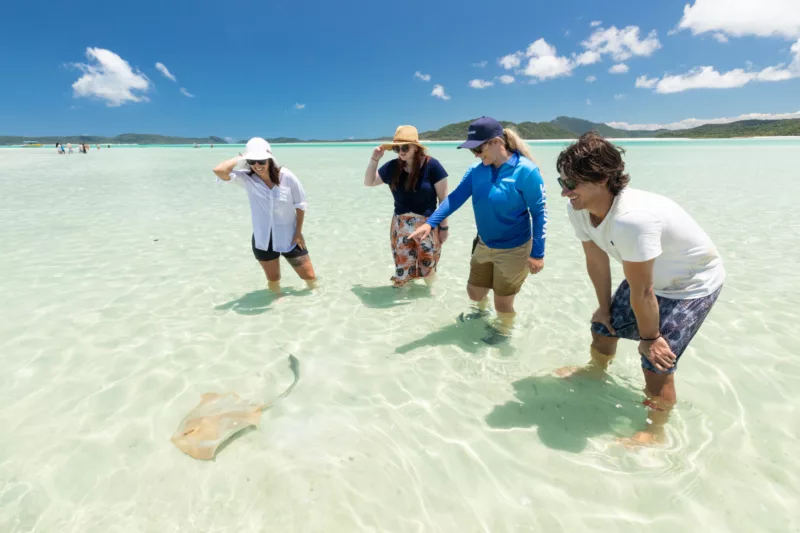 Our safety policy
Our top priority is and will always be safety.
We prioritise the health, safety and welfare of our employees, contractors, visitors, and customers. We are also committed to a high quality of service that provides our customers with an efficient, reliable, and safe experience.
Our environment
We genuinely care about the environment and are dedicated to preserving it through resource efficiency, waste reduction, and environmental impact reduction, all while promoting a culture of sustainability. We are also committed to assisting our local community in their efforts to protect our local wildlife and reduce environmental impacts in our region.

Charter Services
SeaLink charter service caters to groups up to 100 people and is available for cruises, functions, and transfers. Our team can help you with detailed quotes and suggested suppliers to make your next event a success.
Investor Information
Find out more about investing with the Kelsian Group
Careers
For career opportunities with the Kelsian Group please visit our Careers Page