The Tiwi Islands is an art and culture mecca in the Northern Territory. About 90 per cent of the Islands' population is Tiwi and is deeply rooted in a culture that's a healthy mix of art, fishing and footy. And the best part, this cultural paradise is just a short ferry ride from Darwin, NT's vibrant capital city.
The Tiwi Islands is also known as 'The Island of Smiles'. Situated 80 kilometres north of Darwin, the islands are made of an archipelago of 11 islands, including the two largest, Bathurst and Melville Islands.
Tiwi Islands Tours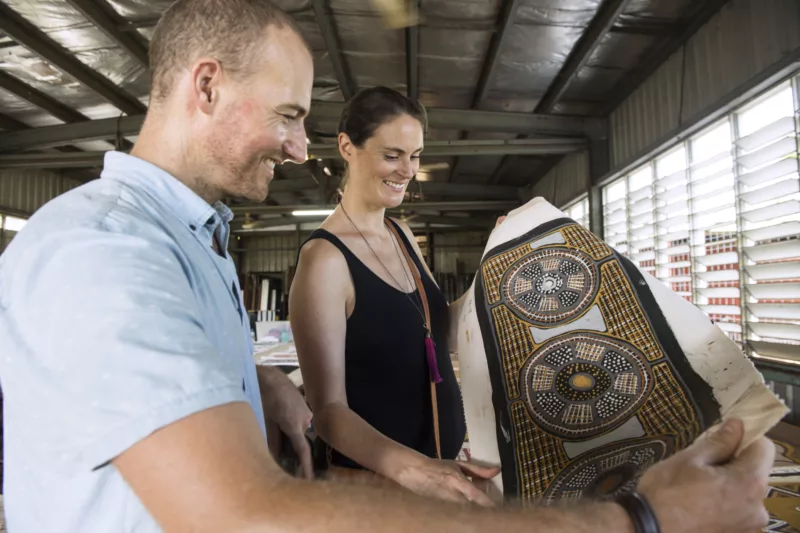 Tiwi By Design
Visit one of Australia's oldest and most artistically diverse art centres on the Tiwi Islands. Tiwi By Design is a full-day tour and is a perfect way to immerse in Tiwi culture. As soon as your ferry arrives on Bathurst Island, you'll be welcomed with a traditional smoking ceremony and demonstration of totem dances followed by a typical Tiwi morning tea of damper and a cuppa while you meet local artists working at the art centre.
Next, you will be taken on a walking tour with a knowledgeable Tiwi guide to take in the beauty of local buildings painted up Tiwi style, the historic mission precinct and wooden Catholic church featured in the Top End Wedding movie.
During this cultural tour, you will also visit the Patakijiyali Museum at Wurrumiyanga. The museum holds records of important information about the Tiwi dreamtime and spirituality, the role of the Tiwi people during World War II and the island's proud sporting heritage, particularly Australian Rules football.
After a hearty lunch, you will get to experience Tiwi's artistic side up close through a screen-printing workshop where you can choose to make your own t-shirt, tea towel, or fabric souvenir.
For a different experience that takes in other sights of Wurrumiyanga, try the Tiwi Islands Aboriginal Culture Tour.
Tiwi Islands art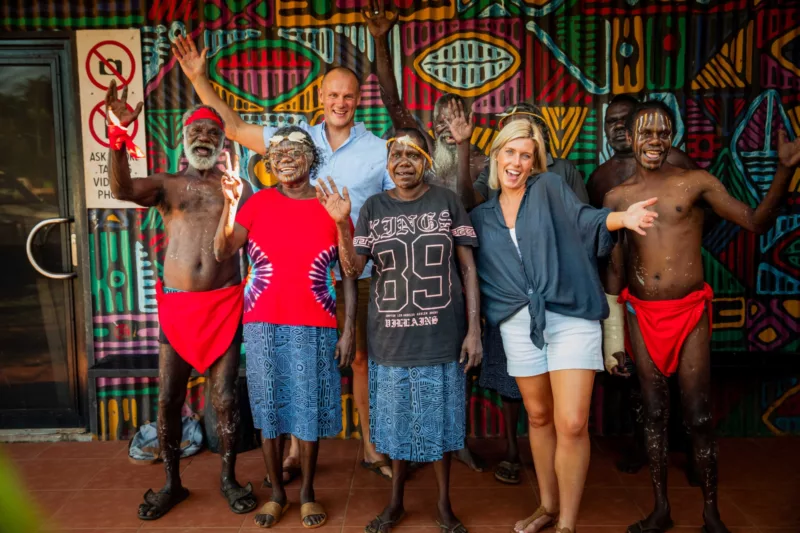 Art is an integral part of the Tiwi Culture. The distinctive artistic style has been developed over centuries and is as diverse as its people. Tiwi Islands' seasons are an important part of life and thus have an impact on the materials available to create art. Three of the key Tiwi art centres are Tiwi Design, Jilmara Arts and Munupi Arts and Crafts. Located on Bathurst Island, Tiwi Design is one of the oldest and most artistically diverse art centres in the country. The artists associated with this centre produce a wide array of art, including ochre paintings on bark, screen-printed fabric art and ironwood carvings.
2 day-1 night luxury Tiwi Islands escape
Spend two days and one night in luxury and explore the best of Tiwi Islands' culture. Join this experience to jet off on a luxurious getaway to Tiwi Islands, stay at Tiwi Island Retreat, participate in a traditional smoking ceremony, and walking tours with local Tiwi guides. Embrace the calm and seclusion of being in a tropical paradise, and enjoy the joy of slow travel with world-class fishing adventures and more. This newly launched experience fuses the best of art and culture with luxury.
Things to know before you visit Tiwi Islands
Bring your own umbrella, sunscreen, hat, and insect repellent.
Please avoid wearing any skimpy clothing or cut-off shorts as this is not culturally appropriate on the Tiwi islands.
Social Media/photography - Please make sure you ask permission before taking photos of people. Do not take photos of children.
No Swimming in water #BeCrocWise.
Quarantine: Before arriving or leaving check clothing does not have any weed seeds clinging to the fabric. NO Soil or fungus on shoes.
Coffee, cold drinks, snacks and souvenirs are available for purchase on board the SeaLink ferry.