Birdlife
Look for seabirds such as crested terns, short-tailed shearwaters, pied cormorants, lesser frigate birds, Australasian gannets and noddys feeding in the waters around the Point Lookout headland. The majestic white-bellied sea eagle, the whistling kite with its shrill call, and the distinctive rust brown and white Brahminy kite are a few of the birds-of-prey commonly seen gliding over the shoreline and headlands in search of small mammals, crabs and fish. And of course, Australia's iconic kookaburra with its distinctive laugh, might be found sitting on the balcony of your accommodation or near the island's eateries.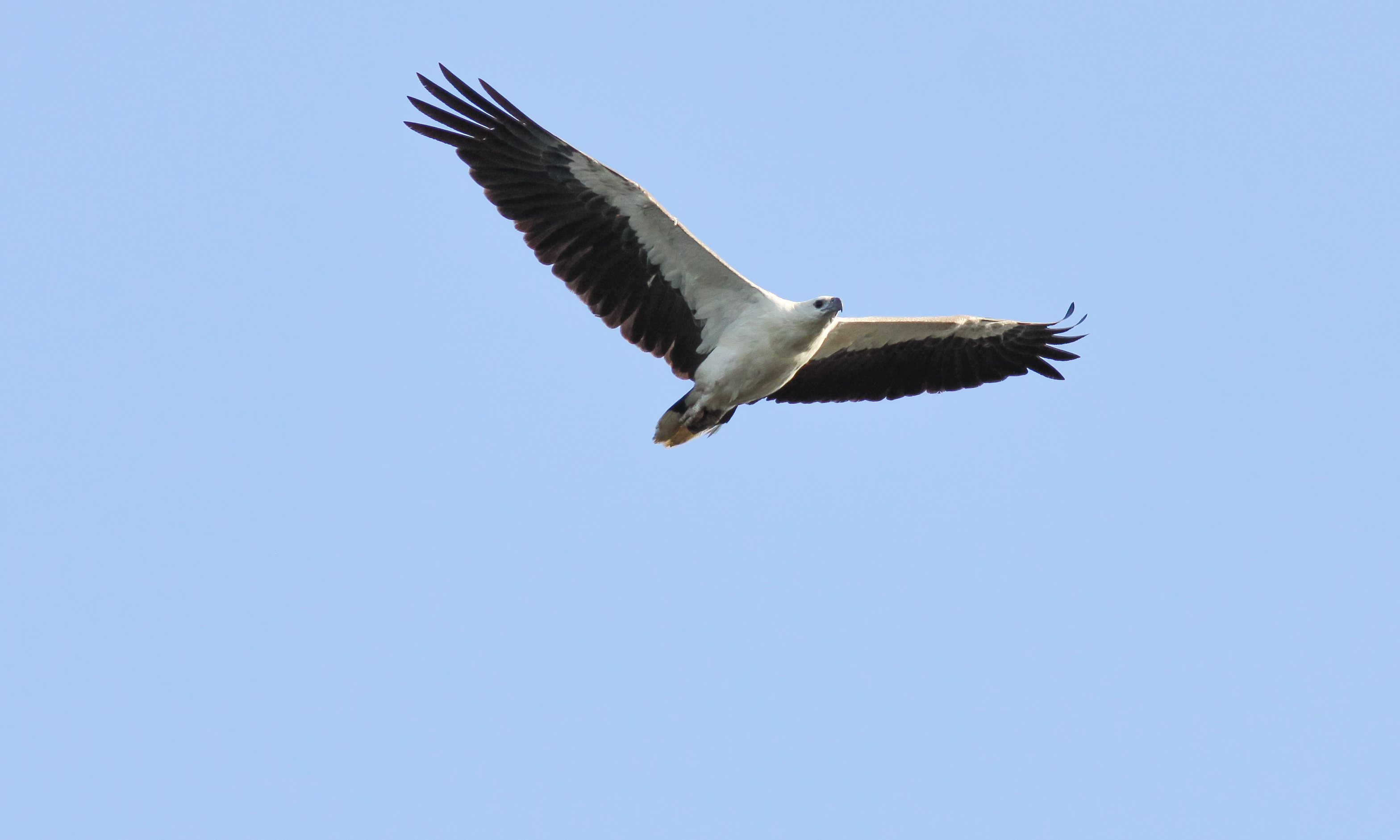 Goannas

This magnificent lizard which grows up to a metre in length can often be seen on warm days basking happily in the sun. Their prey can include all manner of smaller reptiles, young birds, eggs, snakes and mammals. Meals are often eaten whole; thus the size of their meals may depend on the size of the animals. On the walk to Blue Lake you will often spot a Goanna or their tracks in the sand.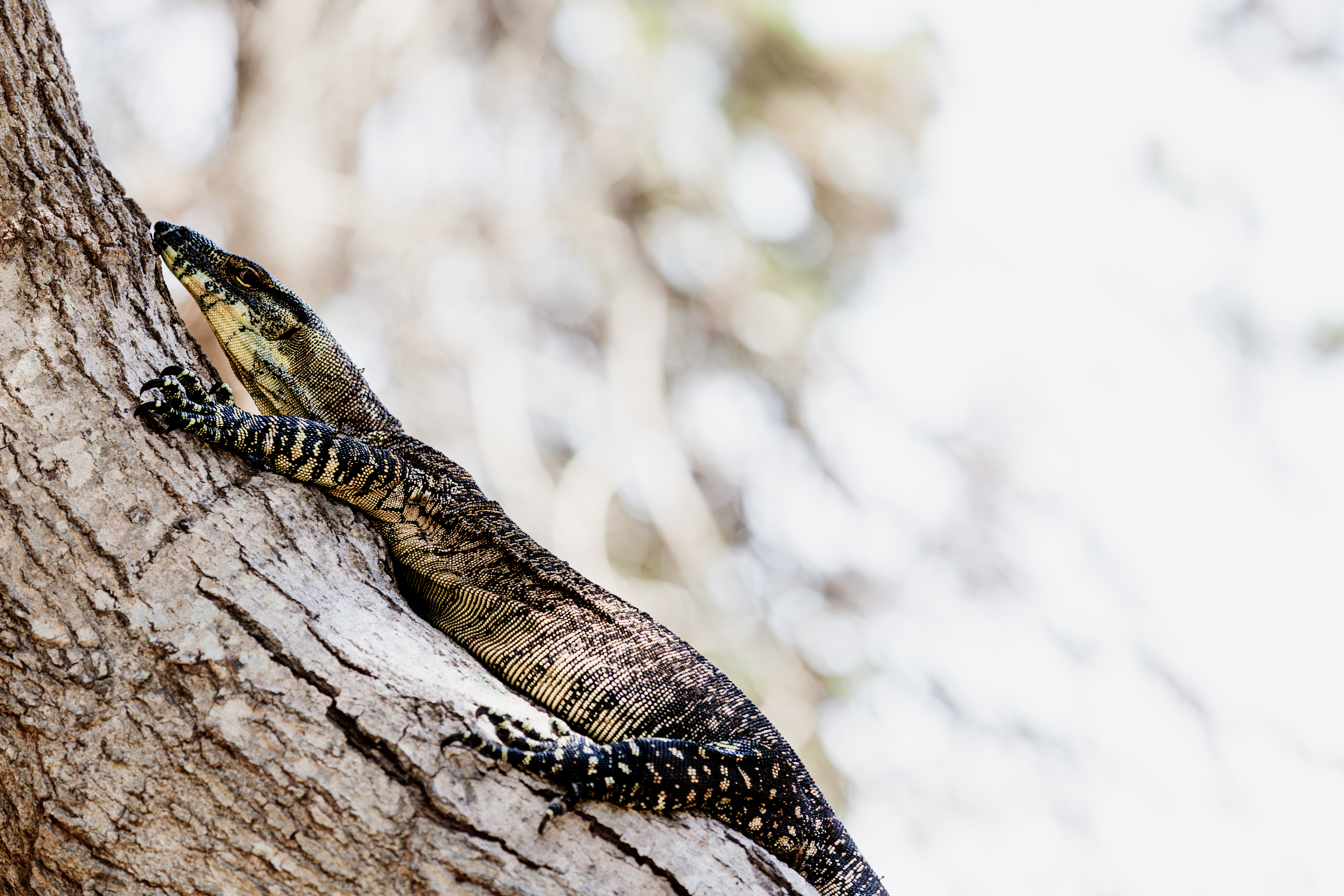 Kangaroos and Wallabies
Grey kangaroos can sometimes be seen feeding on the grass around the North Gorge walk in the early morning and late afternoon. They are accustomed to seeing people and, if observed quietly, a range of their behaviours can be enjoyed at close quarters. Patience is needed to spot the rarer and extremely shy Golden Stradbroke Wallaby. This wallaby is a uniquely coloured variety of the swamp wallaby which only occurs on North and South Stradbroke Islands.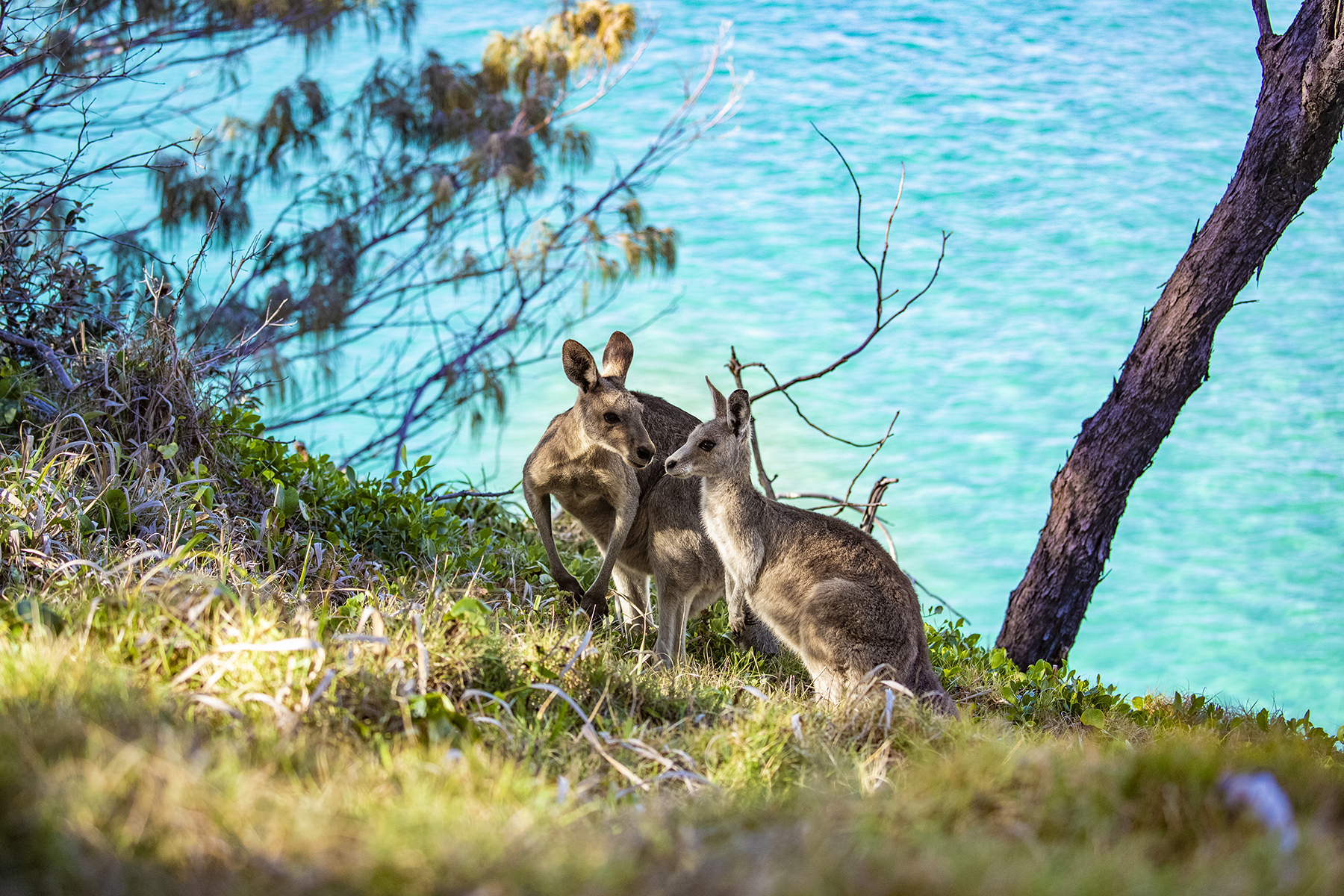 Koalas
North Stradbroke Island has its own population of koalas, found near the western swamps, Swan Bay area and around all of the townships. Koala habitat is protected and managed closely to ensure this unique population is preserved.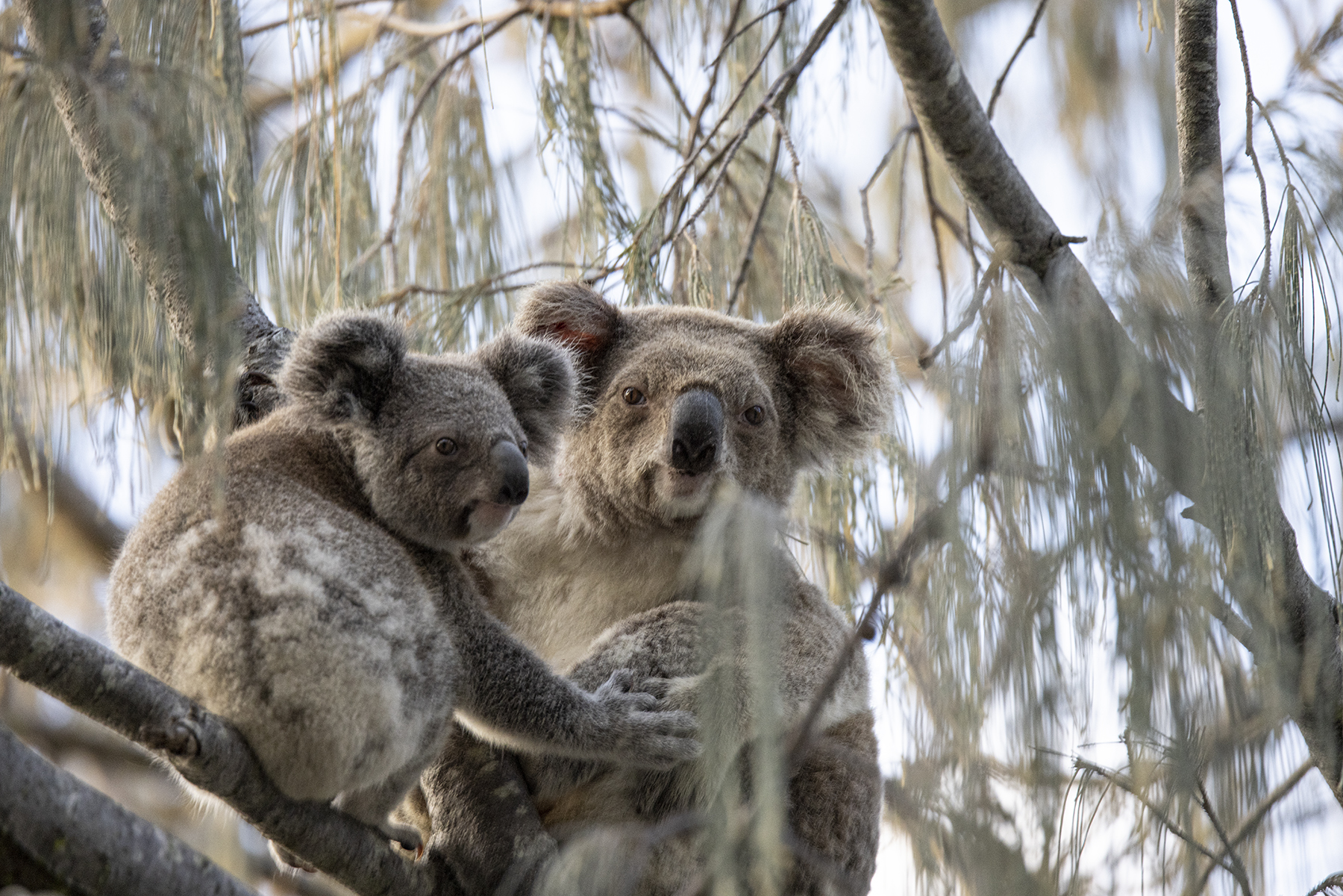 Other native animals
There are many other island vertebrate species that are rated as being biologically important. These include the agile wallaby, water mouse, the skink (anamalopus truncates) and the "acid frogs". Straddie is a wildlife wonderland.
Marine life on North Stradbroke Island
Straddie really is this wonderful place where you can see dolphins, turtles, manta rays and even dugongs without the need of a boat or entry fee.
Dolphins
The water surrounding North Stradbroke Island is home to both bottlenose and Indo-Pacific humpback dolphins and are visited by common and spinner dolphins. The area provides an abundance of bountiful foraging habitats for dolphins such as seagrass beds, mudflats, reefs and mangroves. Point Lookout has a large population of resident bottlenose dolphins which varies seasonally between 700 – 1000 individuals. They can be seen feeding, sleeping and riding the waves in Frenchman's Bay and off Cylinder Beach. This is the largest reported population of bottlenose dolphins in the smallest area in the world.
Norm's Seat cliff-top observation point on the North Gorge walk at Point Lookout offers an excellent view of bottle nose and Indo-Pacific humpback dolphins playing and surfing the waves with the board riders.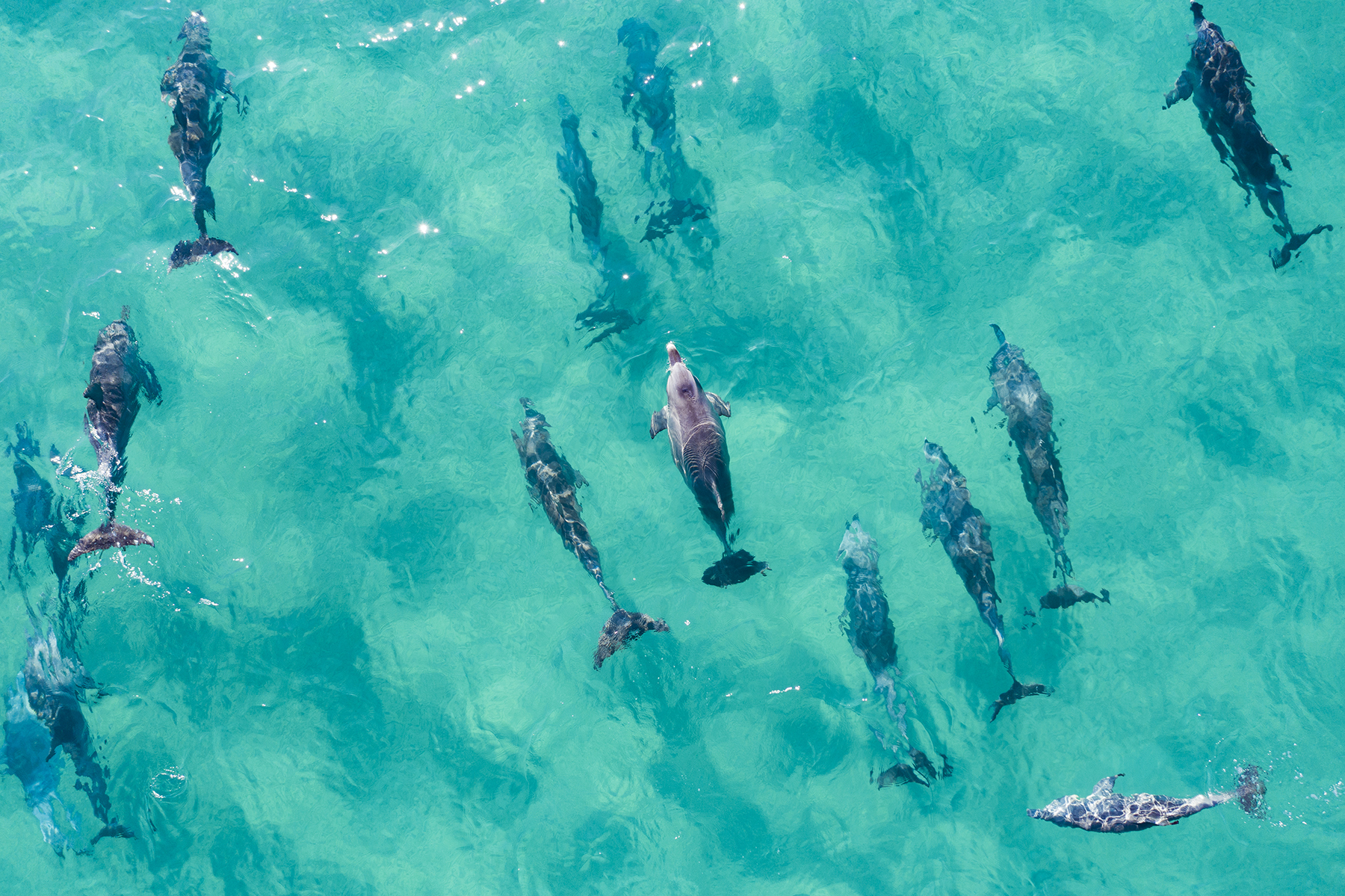 Whales
From May to September each year, the majestic humpback whales pass the North Gorge headland on their annual migration from Antarctica to their calving grounds near the Great Barrier Reef.
Point Lookout is recognised as one of the best land-based whale-watching sites in the world. The headland at Point Lookout is approximately 35m above sea level, from which the majestic marine creatures can be seen playing in the warm waters, displaying a series of twirls, waves and dives.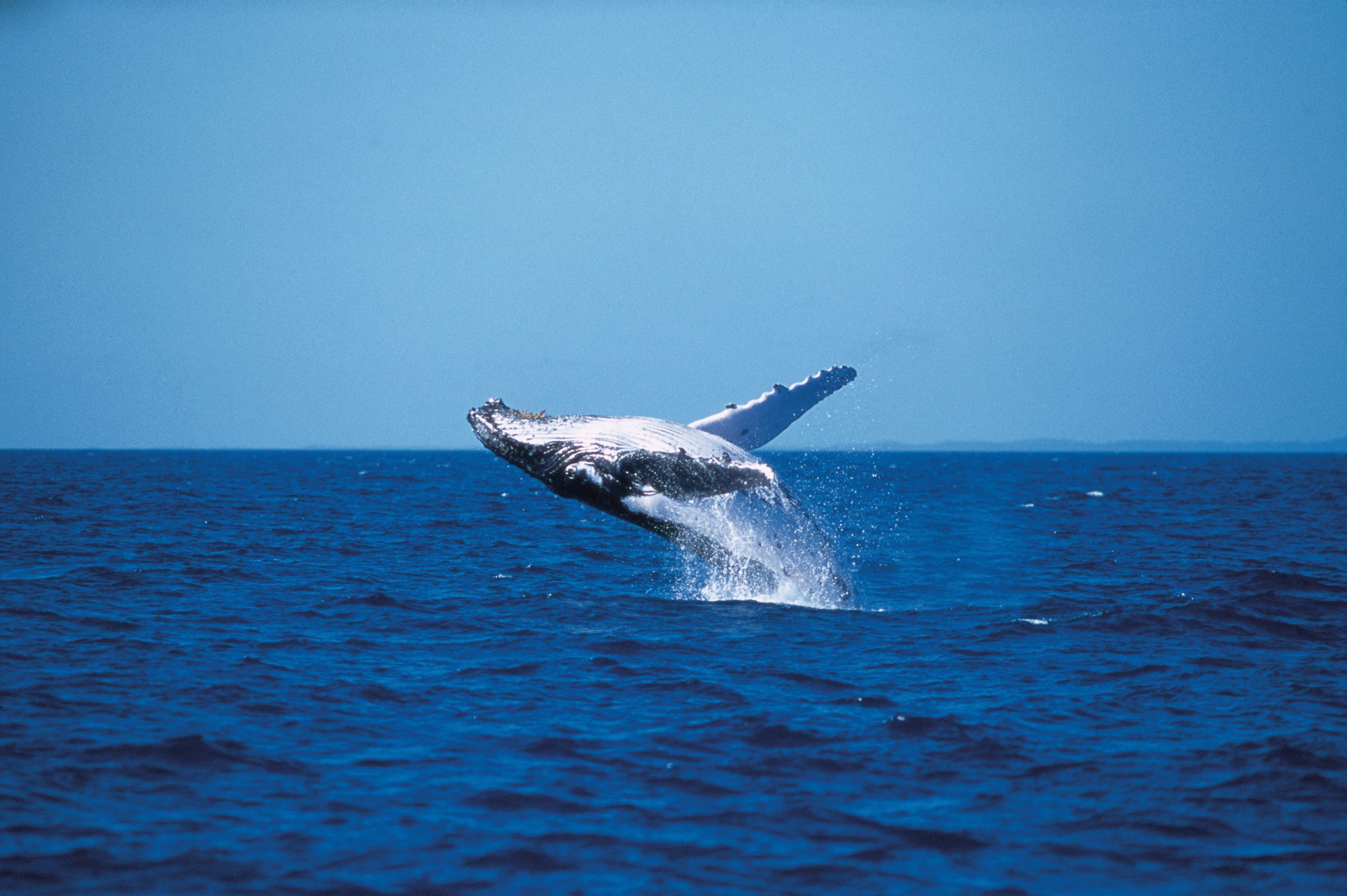 Dugongs
Moreton Bay is a well-known marine park and is one of the few places in the world where large numbers of dugongs can be found. These captivating creatures inhabit shallow tropical waters and are listed as vulnerable to extinction by the World Conservation Union. There are believed to be 600 to 700 dugongs who call the Moreton Bay area home. Although very shy, these mammals can be seen around Amity Point or during the crossing to the island from the mainland.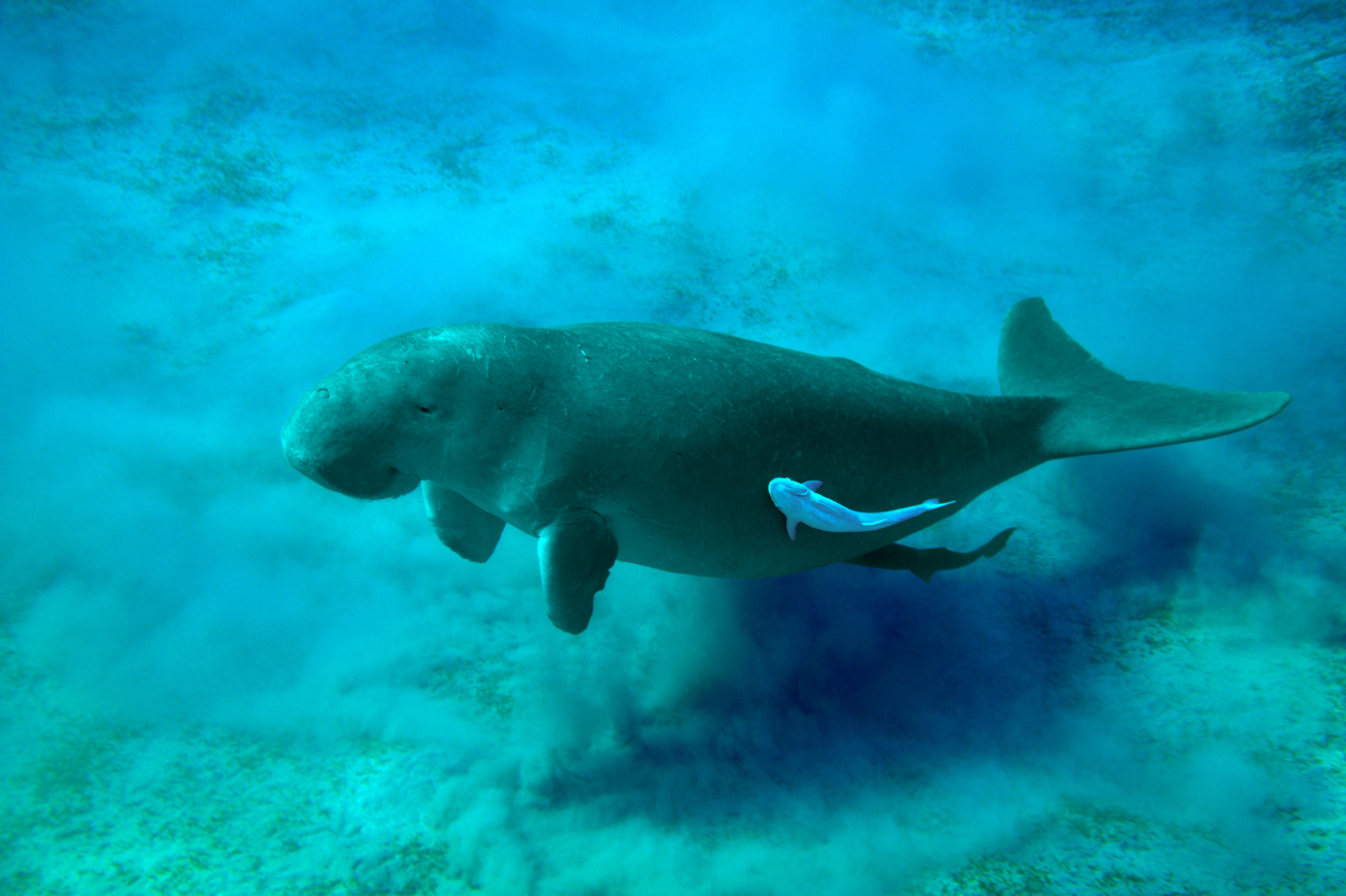 Turtles
Green and loggerhead marine turtles inhabit the sub-tropical waters surrounding North Stradbroke Island. They live long, taking up to 50 years to reach maturity. Turtles have separate locations for breeding and feeding and thus some turtles can travel from as far away as Papua New Guinea and New Caledonia to nest on Stradbroke Island. Female turtles come ashore between December and February to lay their eggs, something they can do up to four times a season. Frenchman's and Deadman's beaches are usually the preferred location for turtle nesting. Moreton Bay is the only place in the world where turtles and dugongs still live on the doorstep of a major city.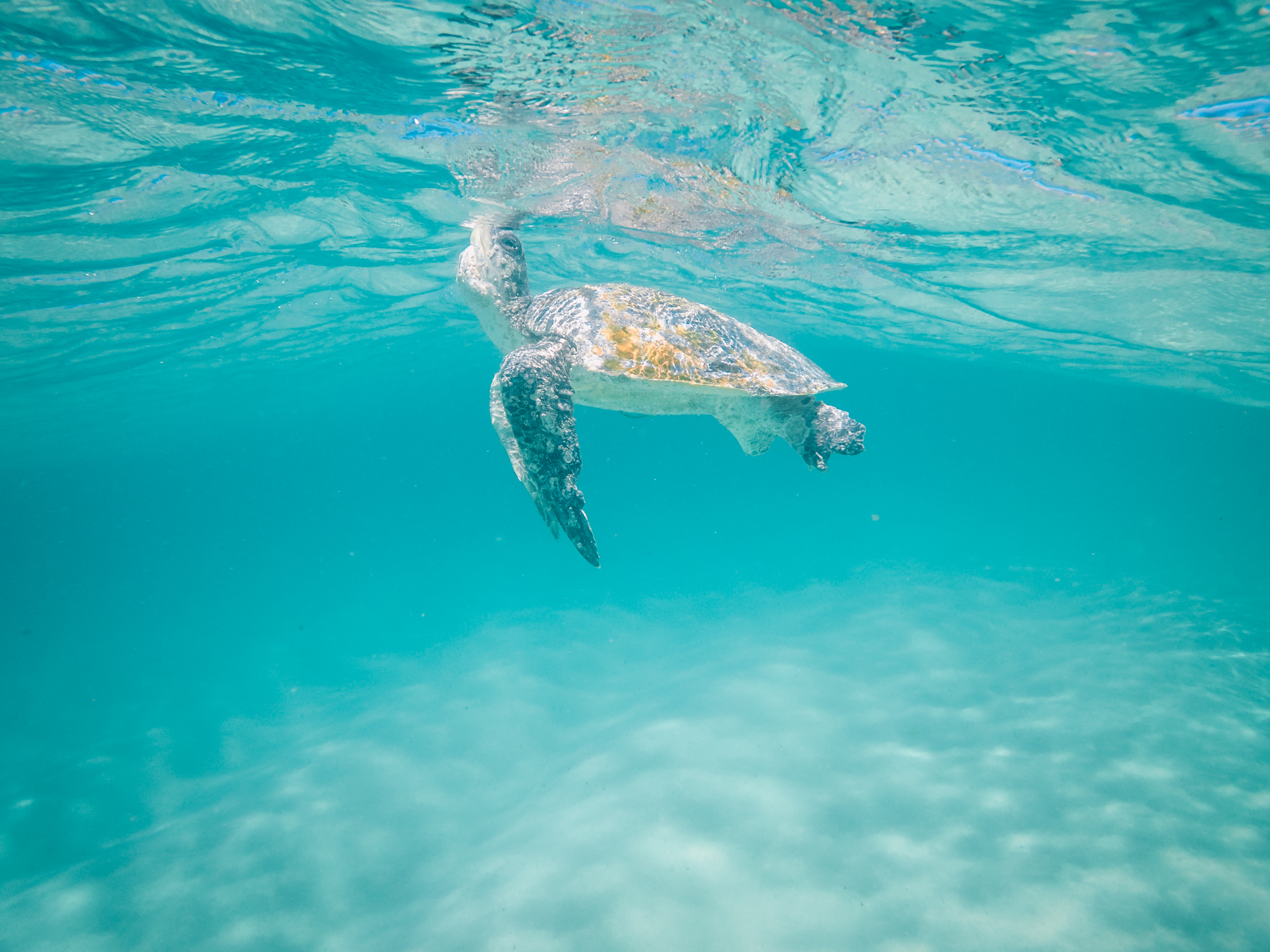 Manta Rays
The manta ray is a graceful and acrobatic animal and is the largest of the rays.While closely related to the shark, the manta ray is harmless and usually relaxed around divers, often allowing an up close and personal experience! A noted site for divers and snorkellers is Manta Ray Bommie, just off Point Lookout, which is one of the best places to dive with manta rays in Brisbane and is mentioned by Queensland Tourism as one of Queensland's top dive sites. Groups of three to four manta rays can usually be spotted during the summer months, when numerous rays converge on Manta Ray Bommie to be cleaned by smaller fish.