Kangaroo Island is the third-largest island off the mainland. In fact, it is six times the size of Singapore. We recommend setting aside at least three days to see the best attractions, however, if a day is all you have, look no further.
One Day Kangaroo Island Experience Tour for nature lovers
If you're a nature lover, you'll love our Kangaroo Island Experience Tour. See the highlights of South Australia's premier nature-based tourism destination with us. From Remarkable Rocks to playful fur seals, SeaLink guides will take you to Kangaroo Island's natural highlights. This is simply the best one-day Kangaroo Island tour available.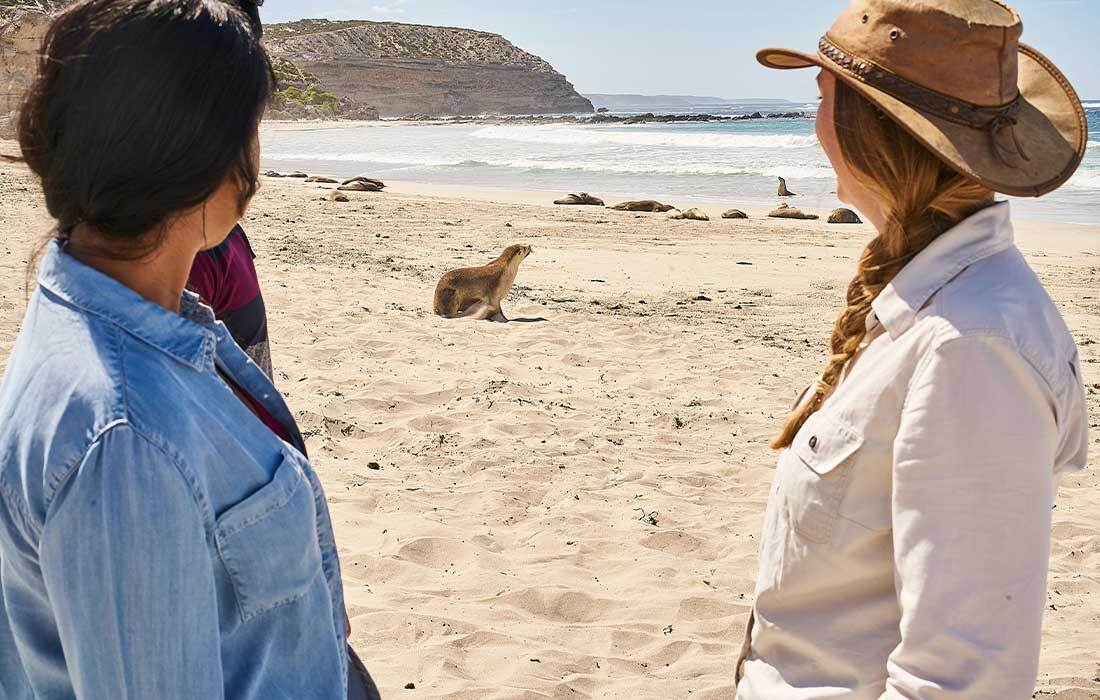 The tour starts with visiting our furry friends at Seal Bay Conservation Park. Here you will see and learn about the endangered Australian Sea Lions with a National Parks Ranger. Seal Bay is one of the only few places where you can get up close and personal with these amazing creatures, so this is definitely an experience of a lifetime!
For lunch, we have a delicious two-course lunch at Vivonne Bay Bistro. Make sure to fill up before we hit the road to explore the Flinders Chase National Park!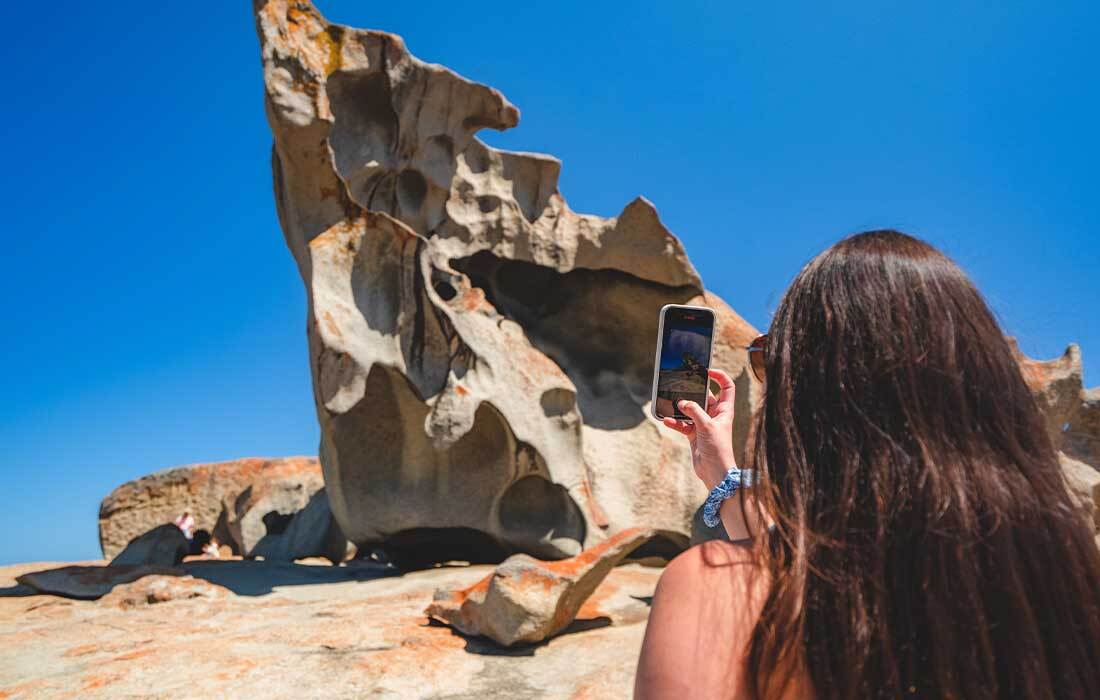 The Flinders Chase National Park is renowned as a sanctuary for native Australian animals including kangaroos, wallabies, koalas and echidnas - just to name a few. The tour of the park will take you to the rugged southern coastline for a walk on Remarkable Rocks and down to Admirals Arch.
Be amazed by the majestic Remarkable Rocks. This oddly shaped cluster of rocks and boulders is the result of erosive forces of wind, sea spray, and rain over 500 million years. Don't forget to take your camera (or your phone!) with you so you can snap some memorable moments while you admire this natural wonder. You'll also be delighted by the stunning sea views of the Southern Ocean from up there.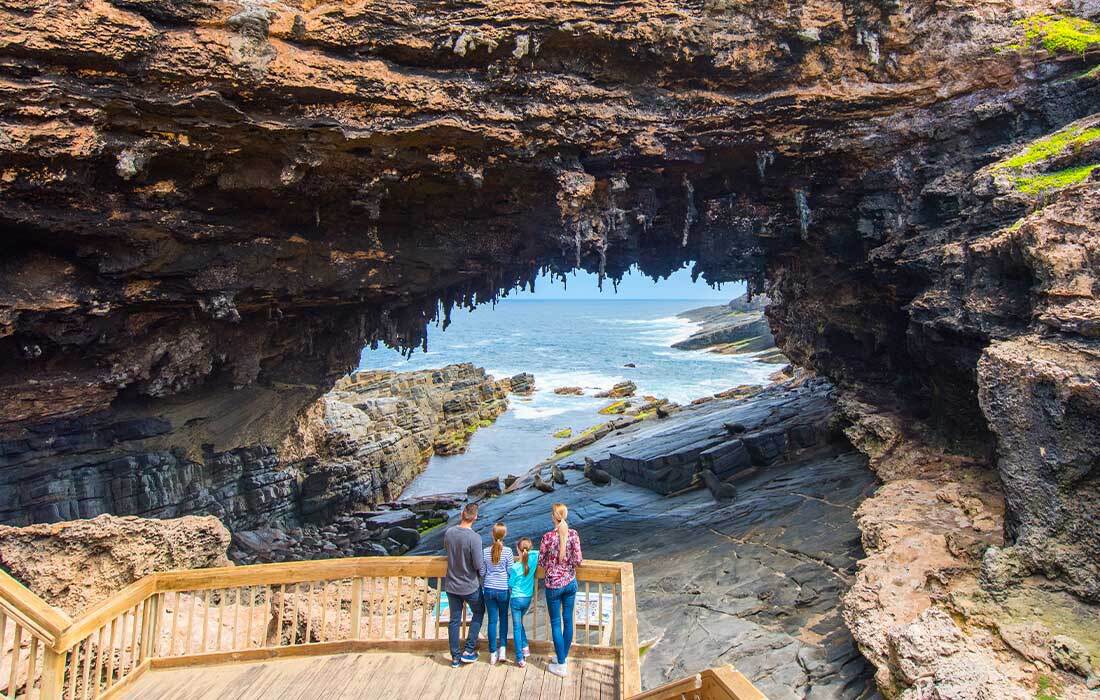 We then head to Admirals Arch boardwalk. This boardwalk takes you down a rugged cliff face to reveal the spectacular rock archway. The area also serves as a natural nursery and safe haven for playful New Zealand Fur Seals that can be seen resting, swimming, and playing in the waves or on the rocks.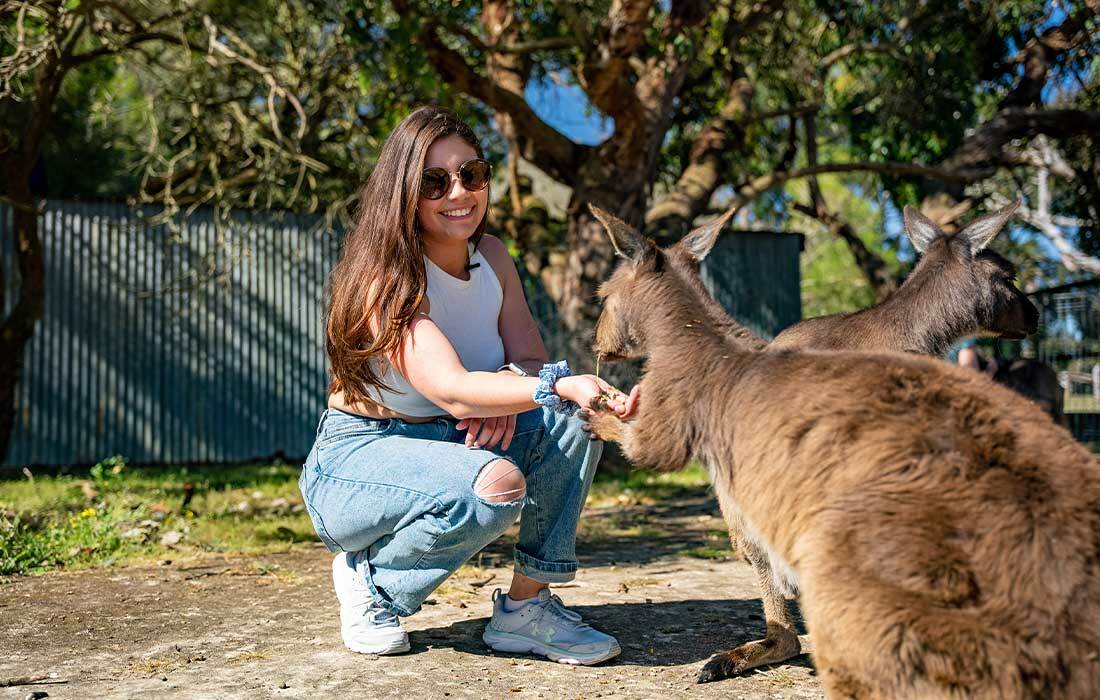 Your tour finishes with a visit to Kangaroo Island Wildlife Park where you get the chance to feed kangaroos and get up close and personal with cuddly koalas. Finally, head back to Adelaide with a smile knowing you have just spent a great day on Kangaroo Island!
One Day Kangaroo Island Sip & See Tour for food and wine lovers
If you're a wine (or beer) lover, the Kangaroo Island Sip & See Day Tour might be well suited for you! Discover Kangaroo Island's nature, wildlife and local wine, cider & ale on this new one day tour. This tour includes a visit to Raptor Domain, a two-course lunch at Emu Ridge Eucalyptus Distillery, a sample of Drunken Drone Brewery's honey wheat ale at Clifford's Honey Farm, a quick stop at Pennington Bay, and wine tasting at False Cape Wines.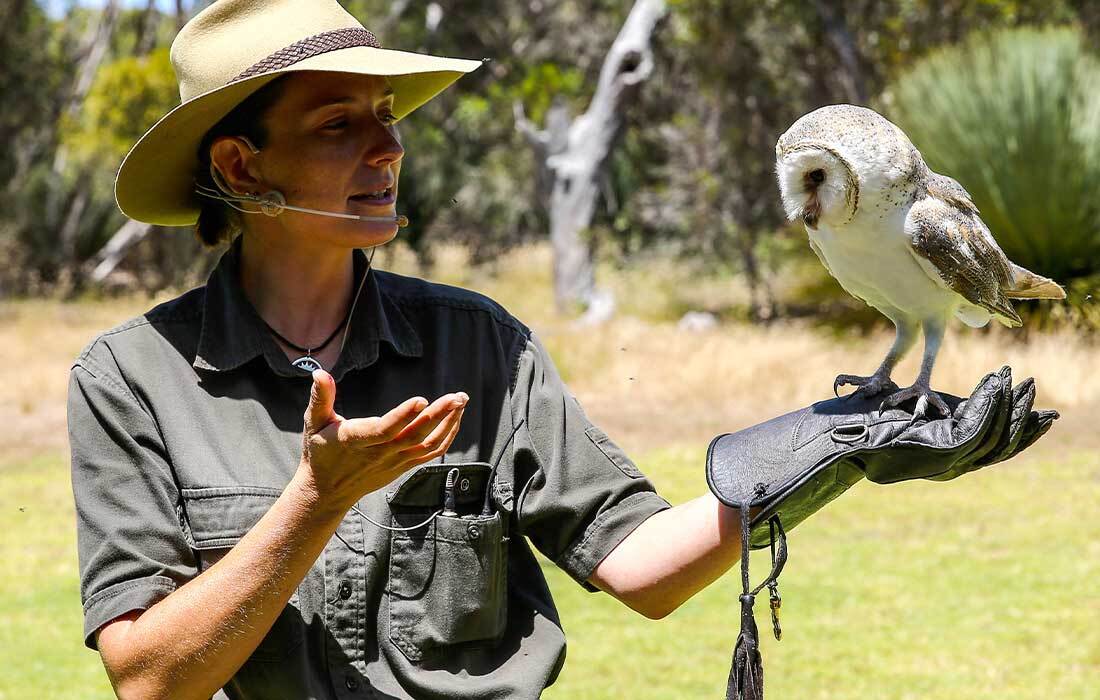 The first stop is Raptor Domain where we see an exciting and educational "Free Flight" Birds of Prey Presentation. During the presentation, not only do you get to learn about various birds of prey in Australia, but you also get to hold them! If you're brave enough to face your fears, you may even want to hold a wedge-tailed eagle at the end of the presentation.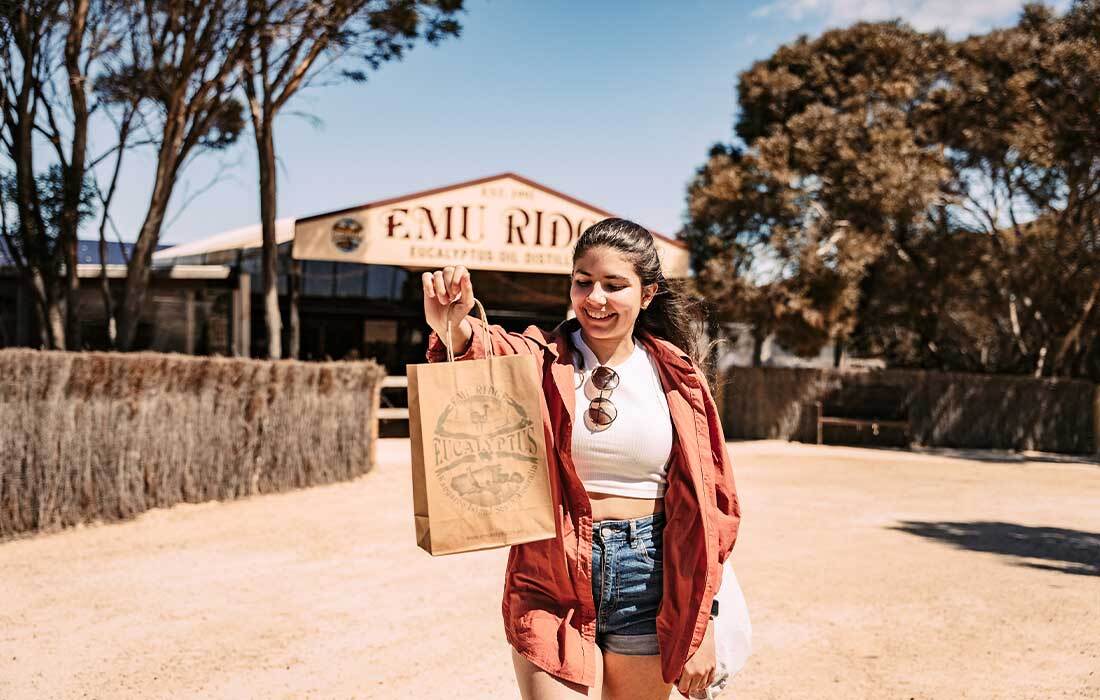 We then head to Emu Ridge Eucalyptus Distillery and enjoy a delicious 2-course lunch there. Join a quick tour around the distillery to learn a little bit about processing eucalyptus leaves for various products. Be sure to check out their shop and take home some of their eucalyptus products. If an alcoholic beverage is what you look for, you also have the option to sample their ciders at an additional cost.
The next stop is Clifford's Honey Farm. This place is heaven on Earth for those who love honey! Have a sample of honey wheat ale brewed from their microbrewery next door, Drunken Drone Brewery. Or, if you prefer an icy treat, dig into their famous honey ice cream from their shop. While you enjoy your beverage or treat, play a little game of "Spot the Queen Bee" in their glass beehive!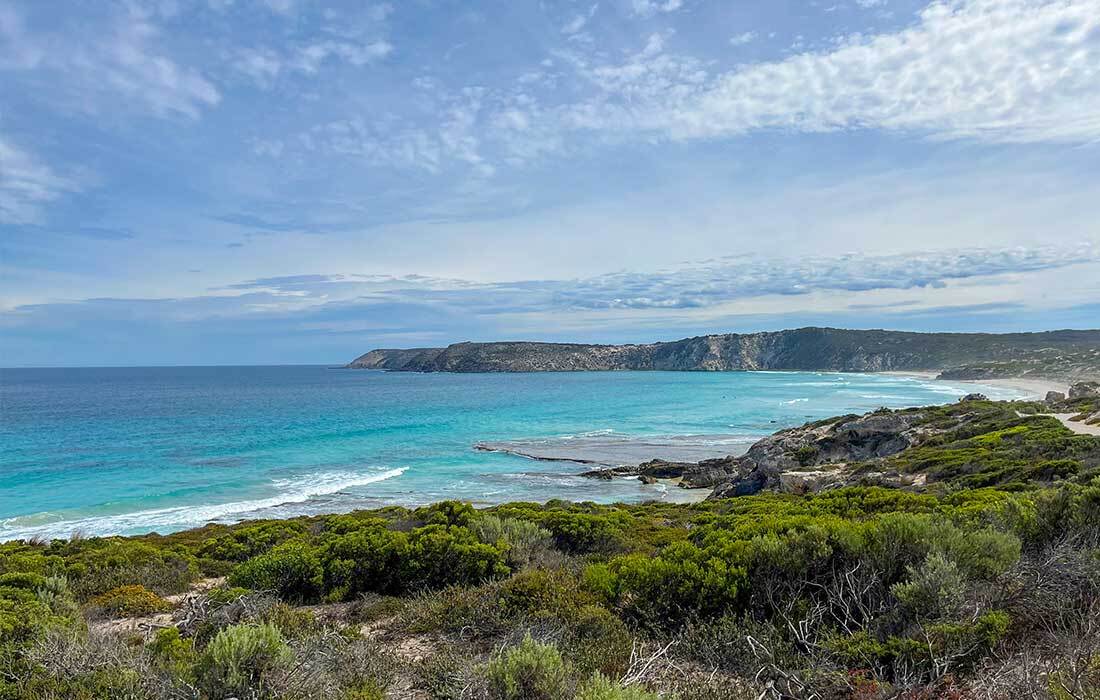 From Clifford's Honey Farm, we then head to Pennington Bay for some personal photoshoot sessions! The beach is a great spot for those who enjoy riding the waves. However, even if you don't surf, the views are too stunning to be missed, so take out your camera or your phone and capture some great moments.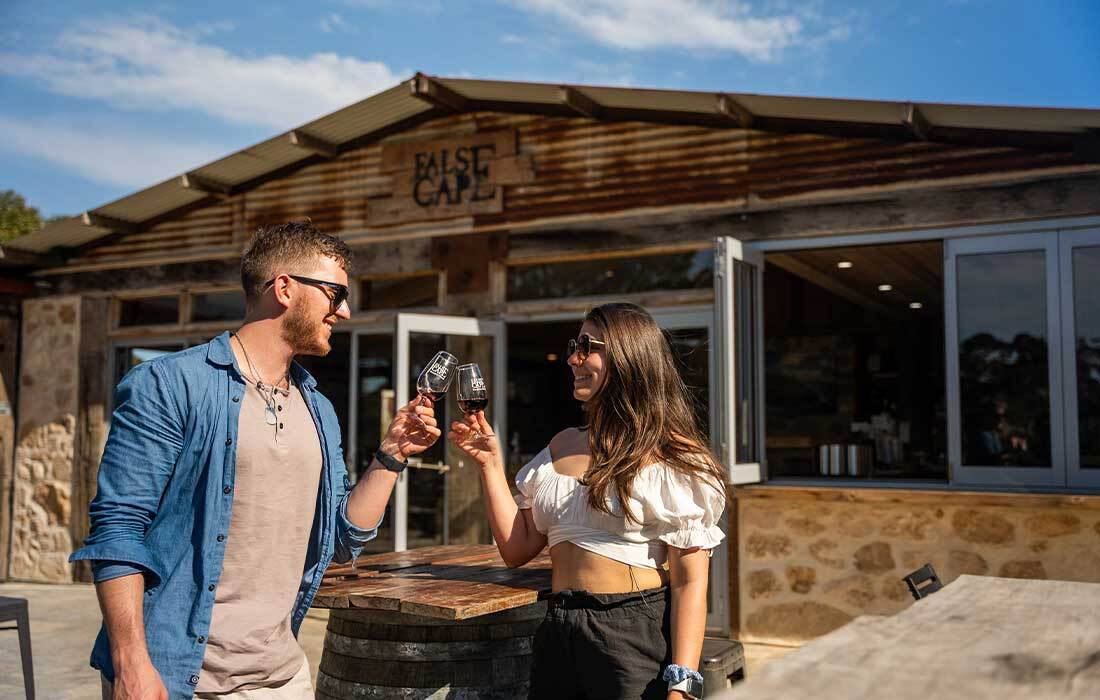 The tour ends with sampling some of the best local wines in the region at False Cape Wines. Enjoy some of their whites, reds, and rosés while you spend a relaxing afternoon enjoying the view of their vineyard.
Both tours are 16-hours long - including travel from Adelaide to Kangaroo Island, and from Kangaroo Island to Adelaide. You do get time to rest during your ferry transfers and coach travel between attractions. If you have the time to spare, why not consider staying overnight on Kangaroo Island or going over the day before your tour?
Looking for the best experiences and things to do during your holiday to KI? Here's our curated list of the 10 best things to do on Kangaroo Island.