Attention foodies! Be prepared to experience a delightful culinary adventure when you visit Kangaroo Island. Kangaroo Island is home to numerous cellar doors, breweries, distilleries, boutique restaurants, and cafes. In fact, you'll find an array of wonderful fresh produce from free-range eggs to garlic, potatoes, olives, lamb, and chicken, as well as harvesting a bounty of fresh fish and seafood, including crayfish, and scallops, abalone, and the famous Kangaroo Island whiting. While you enjoy the island's natural beauty, take some time to visit some of the great places you might like to try when you visit KI.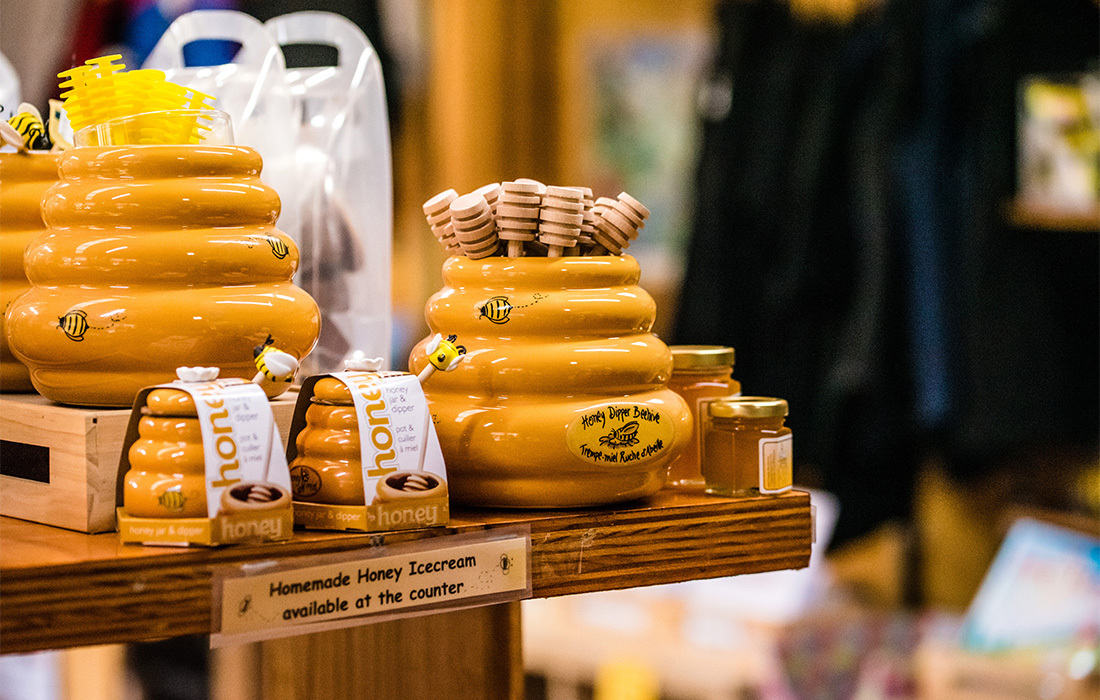 Spoil yourself with honey ice cream at Clifford's Honey Farm
For honey lovers, a trip to Clifford's Honey Farm is a must. The farm produces delicious honey harvested from their beehives. Visit their shop and get yourself some of the best honey-based products, such as their famous honey ice cream, pure honey, treats and condiments, and much more.

Clifford's Honey Farm also run their own small microbrewery called Drunken Drone Brewery. While you're visiting, don't forget to have a taste and maybe buy a few bottles to take away with you.

A visit to Clifford's Honey Farm is included on our Kangaroo Island Sip & See Day Tour.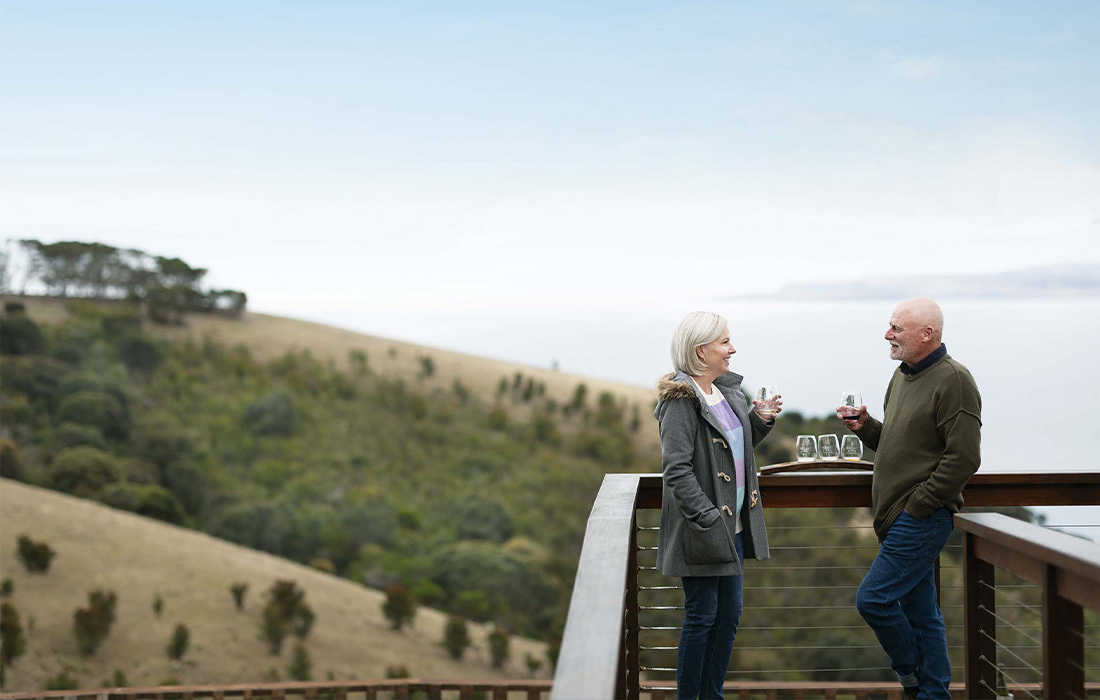 Take a few sips of wine at cellar doors on the island
Kangaroo Island is already home to over a dozen wine labels and has many hundreds of hectares planted out to grapes. Its reputation as a wine destination has grown over the years, with six cellar doors now on offer.

It would be best to dedicate a day (or two!) to visiting some or all six cellar doors on the island. Make sure you find time to visit Dudley Wines' clifftop cellar door, with its stunning view back to the mainland, False Cape Wines, Bay of Shoals Wines where the vines meet the sea, Islander Estate Wines, Amadio Wines, and Springs Road Wines.

If you only have one day to spare, join our Kangaroo Island Sip & See Day Tour for wine tasting at False Cape Wines, and enjoy a delicious two-course lunch at Emu Ridge Eucalyptus Distillery, and sample honey wheat ale at Clifford's Honey Farm. You will also get the chance to visit the incredible Raptor Domain for the exciting and educational "Free Flight" Birds of Prey Presentation and a stop at magnificent Pennington Bay overlooking the Southern Ocean for some great photo opportunities.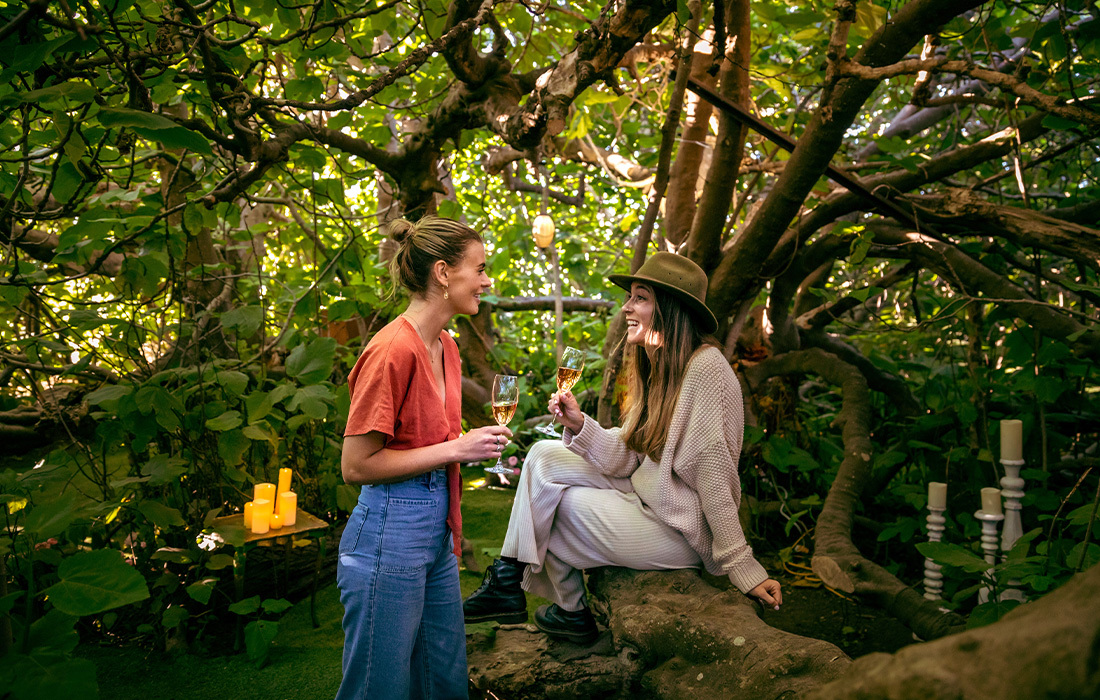 Dine-in at some of the best restaurants on KI
If you're heading to Kangaroo Island between December and April, you must book a spot for lunch, (or dinner), at the Enchanted Fig Tree. This magical dining experience is held inside a 100-year-old fig tree, with its twisted boughs and branches forming various size living rooms with dining tables set out for couples and small groups.

Gastronomo, the amazing team behind the Enchanted Fig Tree, offers an incredible dining experience while you sit in amazement beneath the giant green leaves of the fig tree with the dappled sunlight shining through. Be sure to book your seats early to experience this once-in-a-lifetime dining experience.

Kangaroo Island also offers many other great dining venues offering a range of ambiance and services. Enjoy Italian cuisine at Amadio's Vino e Cucina, or a delicious meal at Reflections Restaurant inside the Mercure KI Lodge Hotel.

For tasty BBQ meats, pizza and pasta, pop into Fire & Smoke or Sorrento's Pizzeria in Penneshaw. If you'd like a relaxing yet sophisticated dining experience, make sure you book a table at the Odd Plate or Bella's in Kingscote. You can't go past the Ozone Bistro at the Aurora Ozone Hotel, overlooking Nepean Bay, for great eats such as schnitzels, steaks, and seafood. For a casual pub meal, the Queenscliffe Hotel in Kingscote, the Parndana Hotel, and Penny's Restaurant inside the Penneshaw Hotel are three favourites for locals and visitors.

In Penneshaw, the Shy Wren is a new addition to the township and is a wine bar, kitchen, and providore with an amazing view over the sea to the mainland and inside and outside dining options.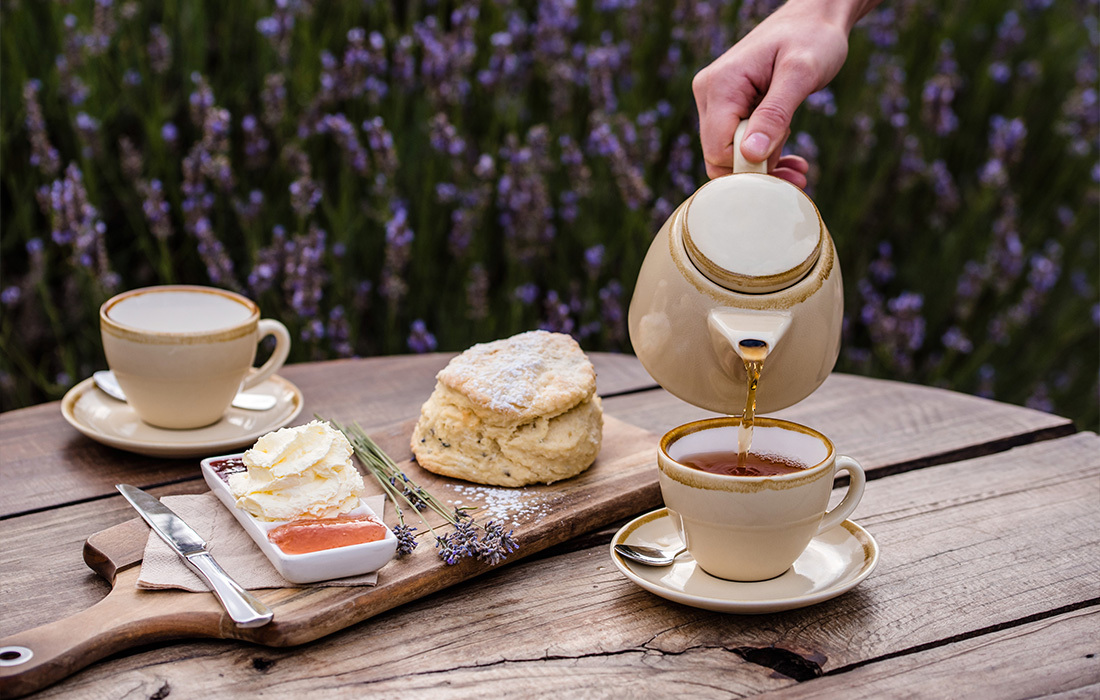 Brunch, lunch and good coffee
Kangaroo Island is also home to various cafes, takeaway shops, and bakeries. From an exquisite brunch in the middle of a lavender farm, to a feast of fresh oysters by the sea, the island has it all.

If lavender is your jam, be sure to make a stop at Emu Bay Lavender Farm & Café for brunch and get yourself one of their oversized lavender scones with your cuppa, you won't be disappointed! If you feel like feasting on fresh oysters, visit The Oyster Farm shop at the American River Wharf.

If you're looking for a great coffee, or a hearty breakfast or lunch, head to Cactus Café, Café Scrumptious, or the Lighthouse Café in Kingscote. The Deck Cafe on the wharf at American River, or the Emu Ridge Café also do breakfast and lunch and if you're craving Indian food, The Old Mulberry Tree Cafe and Restaurant in Kingscote can help you with your craving.

For all pet lovers, bring along your four-legged friends to Fat Beagle Coffee Shop for barista-made coffee and their famous vanilla slice, if there's any left! Or just across the road is Millie Mae's Pantry where you can dine amongst the fruit trees and whatever seasonal vegetables are growing in the garden. If you're into brunch and coffee, check out our recommendations on must-visit cafes on the island.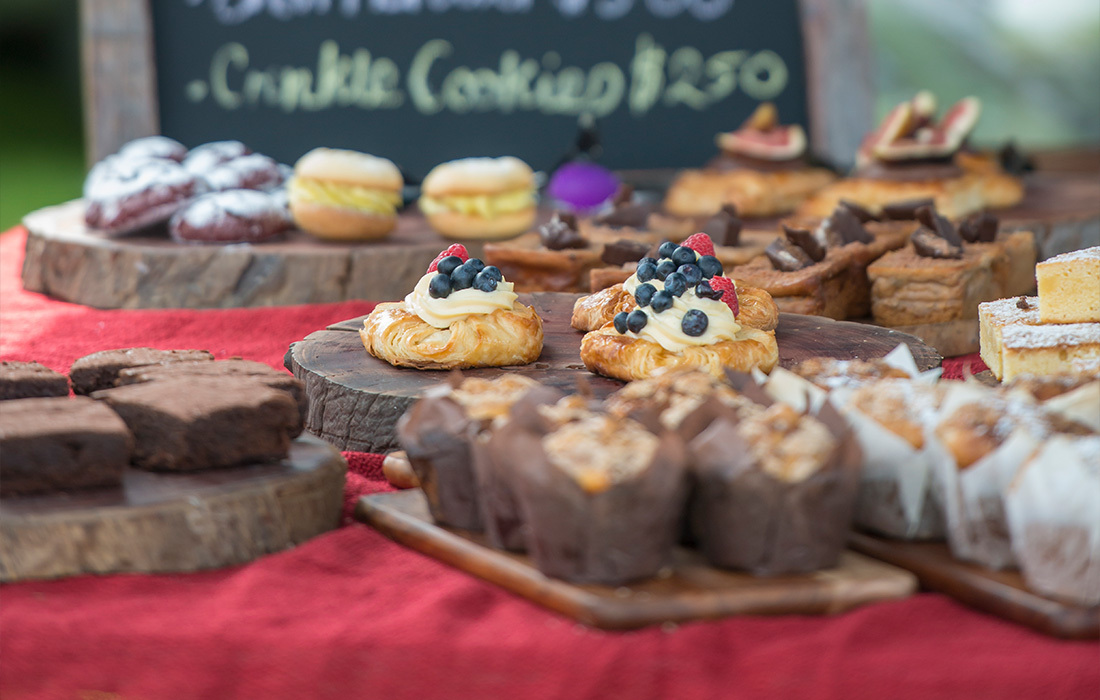 Stock up from these shops on Kangaroo Island
If you are hitting the road in your own car and need some snacks, stock up at the IGA in Penneshaw, Drakes Supermarket in Kingscote, American River General Store, Vivonne Bay General Store, Davo's Deli in Parndana and there's Amanda's Takeaway, KI Fresh Seafoods and Rabbit Warren Bakery in Kingscote for takeaway.

Also, on the first Sunday of every month, there's the fantastic Penneshaw Markets where you can buy local produce, baked goods, treats, and local arts and crafts. The Penneshaw Markets are only a few minutes' walk from the ferry terminal. If you only want to visit Penneshaw Markets, we offer special same-day return passenger fares available from $40 per adult.

For those of you who may be in Kingscote, the Kingscote Farmers & Artisan Markets are held each fortnight at the Kingscote Wharf Lawn.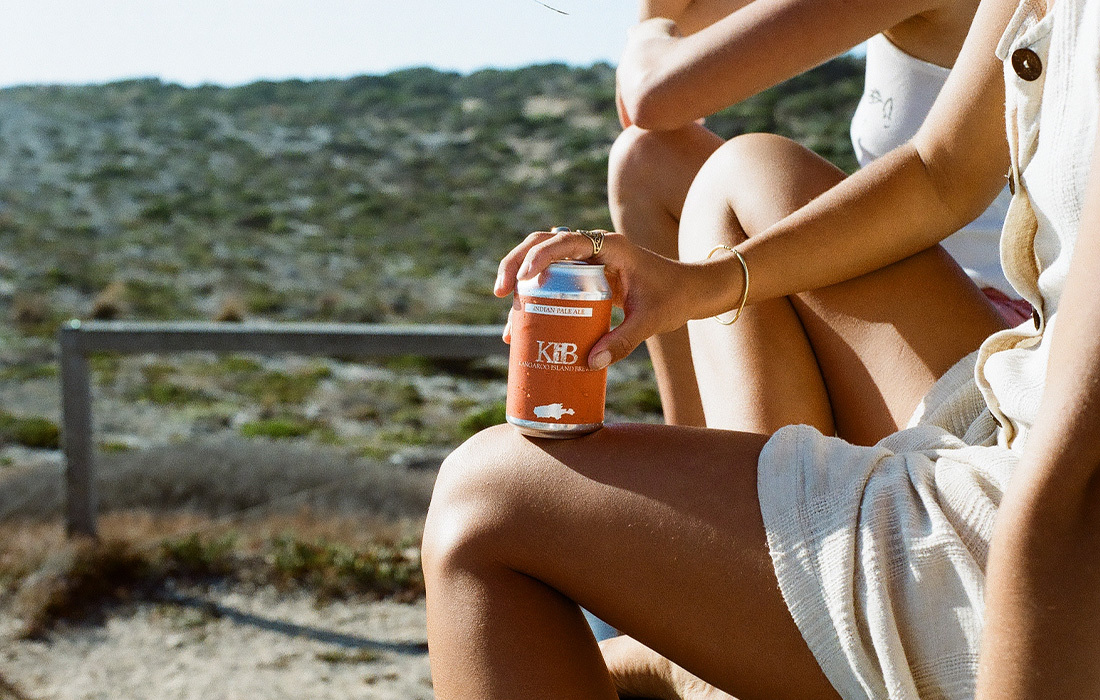 Spirits, beers, and ciders to taste and take home
Your trip to Kangaroo Island wouldn't be complete without a stop at the island's only (and Australia's first) boutique Gin Distillery – Kangaroo Island Spirits, with its range of liqueurs, vodkas, and award-winning gin. If you love ciders, the Emu Ridge Eucalyptus Distillery offers a range of alcoholic and non-alcoholic ciders. The Kangaroo Island Brewery is the island's first microbrewery and it's a groovy place to hang out with its range of craft beers offered as a tasting paddle or by the glass. Finally, the Drunken Drone Brewery's Honey Wheat Ale is available at Clifford's Honey Farm.

We sure hope that our recommendation will help you find some great places to dine and drink while you're holidaying on the island.